Fulton County Board of Health Director Kathleen Toomey, M.D., M.P.H., held another of her popular All Hands Meeting.  Though usually conducted to impart the details of major developments in the department to all staff, this All Hands Meeting served a different purpose.  With "Welcome All Park in South Fulton County" as the backdrop, employees wearing green or blue polo shirts bearing the BOH logo, gathered for team-building exercises—including skits, games, music and presentations. There was public health trivia, friendly competition, and educational sessions.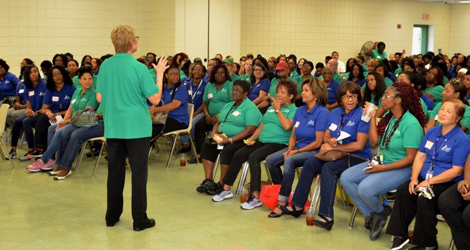 "Feedback from earlier meetings gave managers the idea to hold a team-building exercise and to ask members of various departments to create educational presentations," said Human Resources Manager Kizzy Lewis. "The idea caught on with staff members, and employees who created educational and informational scenarios."
Experts say taking employees out of the office helps break down political and personal barriers, eliminates distractions and allows workers to just have fun. Research confirms that after completing team-building activities together, employees better understand each other's strengths, weaknesses and interests. This understanding, researchers conclude, helps colleagues work together better on future organizational goals and objectives.
"I learned a lot of new things about our programs and what we do every day," said Dr. Toomey. "I think we all came away with a greater appreciation for the breadth of the work being done and the commitment we have to the community in Fulton County."  
The Division of Communicable Disease put on a real-life Family Feud show with questions and answers about tuberculosis. The pharmacy team showed what pills and medicines would say if they could talk. Their presentation outlined the importance of following a health provider's instructions about how much and how often you take your prescribed medication.
The Office of Vital Records, using reams of paper, showed how it takes only minutes, due to advanced technology, to fulfill a request for a birth or death certificate in their new office at 141 Pryor Street. In the previous location, customers had a much longer wait time. The staff of the sexual health clinic, high impact HIV prevention program (HIPP) and WIC staff created skits to educate each other about the vital role of excellent customer service in a public health setting.
The full day of team building activities included service award presentations, department overviews, an opportunity to stress the importance of developing a positive employee culture and an emphasis on client satisfaction. The All Hands Meeting received rave reviews from staff members. 
"Our goal was to give co-workers a glimpse into the lives of their colleagues and to give everyone an opportunity to know each other better and develop stronger team-building skills," said Lewis. "Our team members are telling us that the event was an overwhelming success."