The Georgia Department of Public Health (DPH), Georgia Shape and the Texas Health Institute hosted the Southern Obesity Summit last month in Downtown Atlanta. The Summit is the largest regional obesity prevention event in the United States with hundreds of participants attending each year from 16 states. The Southern Obesity Summit has defined a "Southern Strategy" to encourage interstate initiatives to support obesity prevention and reduction. This year, the Summit recognized health disparities and brought together leaders to share, learn and develop strategies to increase health equality.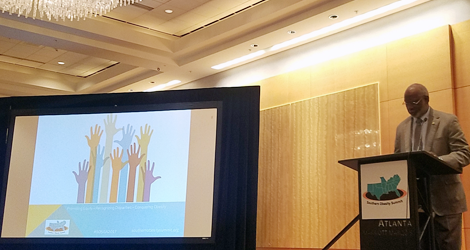 According to the 14th Annual State of Obesity: Better Policies for a Healthier America report from the Trust for America's Health (TFAH) and the Robert Wood Johnson Foundation (RWJF) Georgia's obesity rate is 31.4 percent. The breakout sessions focused on health disparities and how southern states are addressing the most prevalent obesity issues.
Policymakers, leaders from community-based organizations, federal and state government officials, healthcare providers, youth and members from national and state associations attended to address reducing health disparities. The opening panel and keynote speaker comprised of health experts, including David Satcher, M.D., 16th U.S. Surgeon General, and Founding Director of the Satcher Health Leadership Institute; Chris Parker, M.P.H., Research Assistant Professor, Associate Project Director at the Georgia Health Policy Center; Harry Heinman, M.D., Clinical Associate Professor in Health Management & Policy at Georgia State University; Leandris Liburd, Ph.D., Director, Office of Minority Health and Health Equity, at the Centers for Disease Control and Prevention; and Michael Sells, M.S.P.H., Division for Heart Disease and Stroke Prevention, at the Centers for Disease Control and Prevention. The panelists sparked a compelling discussion concerning health equities that set the tone for this year's Summit.
"Georgia is a diverse state with distinct urban and rural challenges," said Georgia Shape Project Manager Emily Anne Vall, Ph.D. "Bringing experts in from across the country to discuss barriers was helpful for our state leaders. The health disparity theme led to many important discussions between states, and having Dr. David Satcher as the keynote speaker was a treat for everyone. Georgia Shape is working to expand efforts that provide disparate populations with much needed resources and technical assistance."
The Southern Obesity Summit included breakout sessions and networking opportunities for participants to make interstate and interagency connections. Over three days, the Summit addressed youth programs, food systems access, healthcare systems, nutrition policy and worksite wellness to enhance obesity prevention efforts. Participants also stayed active with yoga and a walk on the Atlanta BeltLine, led by Summit hosts. Georgia Shape would like to thank the advisory committee, host committee, exhibitors and sponsors for making the 11th Southern Obesity Summit a success.
The 2018 Southern Obesity Summit will be held in West Virginia. For more information on the Southern Obesity Summit click here.