Constance "Connee" Martin, R.N., is the recipient of the 2017 Georgia Department of Public Health STD Program District Manager of the Year Award. North Health District STD Program Consultant Ben Yarn presented the award to Martin last month at a reception hosted by District 2 staff.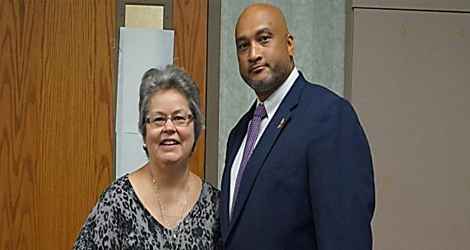 "This means more to me than you will ever know," said Martin. "I'm very humbled and honored to be chosen for this award. I certainly wasn't expecting this, but I feel it is due to the encouragement and support of a great team, including district staff members, county nurses and the team at the state level. I could not do my job without everyone."
According to STD Program statistics from 2016, District 2 had the lowest rates of chlamydia and syphilis. It ranked 13th for gonorrhea out of 18 health districts in the state. District 2 is comprised of 13 counties and has a population of approximately 688,724 residents, making it the sixth most populated district in Georgia. Having both rural and urban areas in the district presents challenges in managing health issues like sexually transmitted diseases.  
District 2 Health Director Pamela Logan, M.D., says: "Although STD prevention is particularly challenging in our district because of our diverse population and numerous strategies that must be employed for success, our prevention efforts have been successful, because Connee collaborates with people at all levels to raise awareness and prevent STDs."
Martin has been with District 2 for 12 years. She began her service in public health as a clinic nurse in Henry County in 1989. She has held several positions in public health since then including District 2 Immunization and Infectious Disease Coordinator, Rabun County Nurse Manager, District 2 Tuberculosis (TB) Program Coordinator, TB Nurse Educator with the State TB program and Henry County Public Health Nurse.