DeKalb County benefits tremendously from booming business, the entertainment industry, and access that metro Atlanta offers. From areas of Candler Road and Glenwood Drive in South DeKalb to lavish neighborhoods in Brookhaven and Dunwoody, those benefits also attract a criminal element that often goes unnoticed – human trafficking.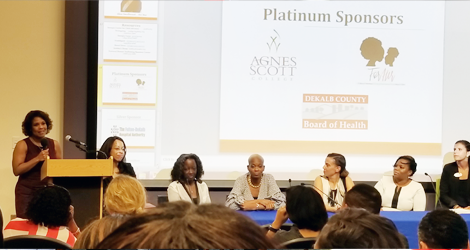 "This is everybody's problem," said DeKalb District Health Director S. Elizabeth Ford, M.D., FAAP. "You can't just look away."
Dr. Ford and the DeKalb County Board of Health, along with concerned residents, stakeholders, elected officials, survivors of human trafficking and college students from institutions throughout metro Atlanta, filled the Frances Graves Auditorium to near-capacity last month for Human Trafficking: What Everyone Needs to Know. Joining the spirited conversation were panelists from the DeKalb County Office of the District Attorney, U.S. Department of Health and Human Services, and trafficking survivors.
Human trafficking is big business in Metro Atlanta. According to a 2014 study by the Urban Institute, the illegal sex industry generates around $290 million a year, with some traffickers making more than $32,000 a week. Additionally, the industry isn't limited to female victims only; approximately 50 percent of human-trafficking victims are male.
One of those who experienced abuse and manipulation firsthand was survivor and panelist Jada Welch. Welch, who was at times emotional recalling her past, was sold for sex and drugs by her mother at just 5 years-old.
"I was tired. I was burned out. It was God that got me out," said Welch in response to a question from the audience asking how she escaped sex trafficking and the trade.
"Agnes Scott College is honored to have hosted the summit on our campus," said Amy E. Patterson, Ph.D, M.H.S, assistant professor of Public Health. "The mission of Agnes Scott is to challenge young women to think deeply, live honorably and engage the intellectual and social challenges of their times. Human trafficking is such an important social challenge facing Atlanta and our world today." 
One event on the radar of panelists was Super Bowl LIII, to be hosted in Atlanta in February 2019, drawing football fans, travelers, spectators – and traffickers – from all over the country.
While officials could not divulge specifics on what preparations were being made to address the human-trafficking issues at the National Football League championship game, they are "aware and preparing" and encouraged everyone in attendance to rally their communities and take action now.
Dr. Ford issued a firm warning to traffickers coming for Super Bowl LIII:
"Don't come down here looking for children; we're not going to have it."