At the Georgia Department of Public Health (DPH), quality improvement is our goal. The agency is committed to developing and institutionalizing a culture of quality by evaluating and improving processes, programs, and services.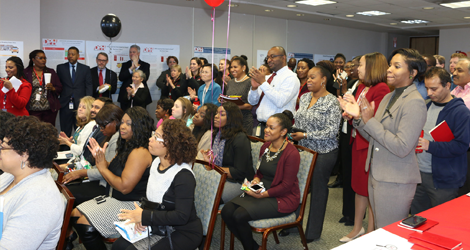 On Jan. 31, 2018, DPH will host its Second Annual Culture of Quality Day at 2 Peachtree Street. This is employees' opportunity to highlight how the programs and sections have improved quality. For example: Have you removed redundant steps from a process to improve turnaround time? That is a great poster to present at Culture of Quality Day. Have you modified a workflow to make it more reliable and reduce errors? Submit that as an abstract. Projects can be submitted at any stage in the quality improvement (QI) process. Whether you are just beginning or to plan or have completed a project, all submissions are welcome.
In January 2017, DPH held the first Culture of Quality Day, and it was an exciting opportunity to learn about innovations and improvements throughout the department and have engaging conversations with coworkers about their QI efforts. Twenty-one posters were displayed and more than 200 co-workers attended the event. Several programs presented abstracts about how they have improved processes and delivery of services.
"Participating in DPH's QI initiative helped raise awareness about the hepatitis B birth dose data quality issue with key program stakeholders," said Perinatal Hepatitis B Program Coordinator Tracy Kavanaugh.  "We were able to gain new perspective and work together to develop a viable resolution to improve the quality of hepatitis B birth dose data entered into the Georgia Registry of Immunization Transactions and Services (GRITS) database. I would encourage anyone who is considering submitting a QI project to take advantage of this opportunity. The QI process can be challenging at times, but seeing your project make a positive impact makes the challenges worth it."
The Georgia Special Supplemental Nutrition for Women, Infants, and Children (WIC) program also received special recognition on QI Day.
"Georgia WIC performed a Quality Improvement project related to our Nutrition Education Materials," said WIC Advisory Team Manager Barbara Stahnke MEd, RD, LD. "We were able to streamline our materials to assure better quality and consistent public health messages that are also more culturally competent and meeting health literacy needs.  We also set the stage to provide consistency in selection and development of materials for the future. I highly recommend Quality Improvement for making a difference in targeted services to DPH customers."
The Division of Environmental Health initiated a project to make their data-collection systems more reliable.
"Environmental Health's effort to address data quality in complaint records not only made the data far more reliable, but also provided the framework for the project team members to use in several other record types and similar CQI efforts," said Tim Callahan, evaluation and support program director.
The deadline to submit a QI abstract is Dec. 8, and the submission form is available now on the DPH intranet (https://gets.sharepoint.com/sites/DPHIntranet/Quality/SitePages/Quality.aspx). You can access the abstract submission form here. For more information about Quality Improvement at DPH visit the Quality Improvement SharePoint site at this link or email quality.improvement@dph.ga.gov.