At the 2017 annual Georgia Mosquito Control Association (GMCA) meeting, State Entomologist Rosmarie Kelly, Ph.D., M.P.H., was awarded the T. Oscar Fultz Fellowship award. The award is granted for exceptional life-time contributions to the association and to the control and study of mosquitoes. It is the association's highest award. T. Oscar Fultz was a pioneer in mosquito control and long-time past director of the Chatham County Mosquito Control Agency.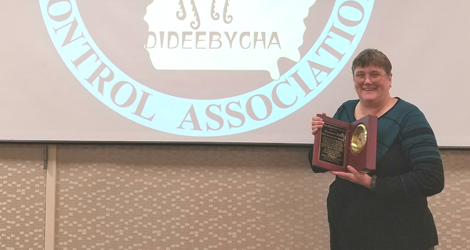 "The award was completely unexpected," said Dr. Kelly.  "I was humbled to be given this honor, and I am grateful to the association and my co-workers for all their support and assistance."
Dr. Kelly has been a board member of the association for almost 15 years. Through a network of public health, university and mosquito control contacts, she helps organize the program and annual GMCA meeting.  
 "Rosmarie has been a sounding board for my off-beat ideas," said Fred Koehle, past president of GMCA. "She is a constant reference library and a good friend. She does so much for everyone. It's amazing she has time to breathe. Along with her work as the State Entomologist doing on-site trapping and identification, she is the webmaster for the association and publishes its newsletter. She is most deserving of the award."
In her 15 years as the state entomologist, Dr. Kelly has been heavily involved in efforts to educate Georgians about mosquito control for West Nile Virus, Eastern equine encephalitis and LaCrosse encephalitis.
"Georgia has three endemic, mosquito-borne diseases: West Nile Virus, Eastern equine encephalitis, and LaCrosse encephalitis," said Dr. Kelly.  "We also see travel-related cases of Zika, Chikungunya and Dengue. My team and I have provided training and education, as well as assistance with mosquito surveillance and control. We work with the environmental health specialists at the county level and with mosquito control."  
Dr. Kelly started conducting mosquito surveillance in 2002 in response to the West Nile Virus epidemic and has continued to do so. With her knowledge, she has assisted with emergency response to mosquito problems created by several tropical storms and tornadoes.  
"I was involved in obtaining the original mosquito surveillance emergency response trailer, which is currently housed in Statesboro to assist the mosquito control program and provide mosquito surveillance and control training to university students."
Mark your calendar for Oct. 17-18, 2018 for next year's annual GMCA meeting.