Unini Odama, M.D., M.P.H., a nephrologist and hypertension specialist, is now the Northwest Health District Health Director. Her training and experience in internal medicine, hypertension, kidney care and treating diseases of the kidneys, kidney transplant, research and public health give her a unique perspective and opportunity to serve and promote a safer and healthier Northwest Georgia.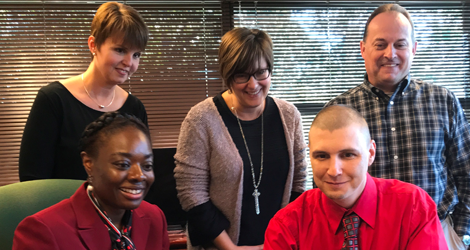 Dr. Odama explains her vision for the Northwest Health District and how her experience in private medical practice and her public health education shaped her management style.
Q: What are you looking forward to as the new district health director and what are some of your top goals?
A: The Georgia Department of Public Health (DPH) has a great vision – a Safe and Healthier Georgia – and I would like to participate in moving that vision forward in Northwest Georgia. This vision can be achieved only by teamwork. Therefore, my initial priority is to establish a strong, healthy and united Northwest Health District workforce. Strong collaborations with partners in the community and in academia will also allow us to be innovative in creating strategic programs that are efficient and effective.
Early detection and prevention of childhood and adolescent public health problems are another priority in Northwest Georgia, particularly hypertension, substance abuse and the opioid epidemic, which is occurring in an ever-younger segment of the population. Promotion of early-childhood public health education is vital. We hope that such early and sustained intervention will make choosing healthy and protective lifestyles easier, which should ultimately lead to long-lasting positive health and safety benefits.
Q:  How does your experience as a nephrologist or kidney specialist and hypertension specialist shape your approach to this job?
A:  Most people with kidney problems, especially those on dialysis, have other public health-related concerns such as poor access to care and social determinant factors. They are also prone to public health issues like chronic hypertension, diabetes, coronary artery disease and infectious diseases like HIV and STDs. The art of listening and learning from patients, skills used daily in the nephrology environment, will be invaluable in the larger scope of Public Health.
Q:  What is your focus right now?
A:  My immediate focus is unifying teams to work together, empowering them to choose to be great, identifying talent, allowing creativity and refocusing teams toward the vision and mission of DPH.
Q:  What's No. 1 on your wish list?
A:  I wish for District 1 to become a standard-bearing district committed to the safety and health of Northwest Georgians, to demonstrate excellence in public health science stimulated by creativity, and to serve with vigor and joy knowing that each of us makes a difference. 
The Georgia Department of Public Health Northwest Health District works to inform, protect and prevent diseases, injury, and disability, thereby improving the quality of life in 10 northwest Georgia counties: Bartow, Catoosa, Chattooga, Dade, Floyd, Gordon, Haralson, Paulding, Polk and Walker. We provide exceptional medical services, track and prevent the spread of disease, promote health and safety through education and communication, monitor area environmental safety (including restaurant and other food-service inspections) and ensure our community is prepared for public health emergencies. Find us on the web at http://nwgapublichealth.org/.