This holiday season over 1,300 North Georgians are less likely to exchange the flu with family and friends after being vaccinated at a drive-by flu shot clinic provided by their local health department.
County health departments in North Georgia Health District 1-2, based in Dalton, have successfully conducted drive-by flu shot clinics each fall since 2007.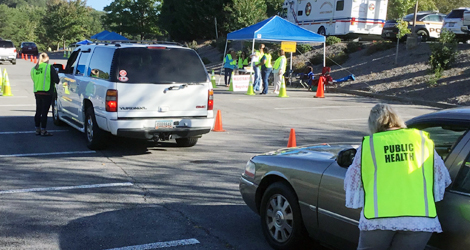 By rolling in and rolling up a sleeve at these annual clinics in Cherokee, Fannin, Gilmer, Murray, Pickens and Whitfield counties, residents not only conveniently arm themselves against the flu, but they are better prepared to help protect others by not spreading the flu virus.
The clinics are also an opportunity for health department staff to coordinate with community partners in exercising their Strategic National Stockpile and Point of Dispensing plans should they ever need to quickly provide medications and supplies in a widespread public health crisis, like pandemic influenza.
Vaccinations are administered smoothly and within just a few minutes of arrival at each clinic. Information is provided about the vaccine and preventive measures against catching or spreading the flu virus, such as proper handwashing and effectively covering coughs and sneezes.
Although the drive-by flu shot clinics have been completed, health officials continue to remind the public of the importance of flu vaccinations. They are encouraging and reminding residents that it is not too late to get their flu shot for it to be fully effective by the holidays.
Health officials advise residents that while seasonal influenza (flu) viruses can be detected year-round in the United States, flu viruses are most common during the fall and winter which is when families are getting together for holiday celebrations. The exact timing and duration of flu seasons can vary in Georgia, but influenza activity often begins to increase in October. Most of the time flu activity peaks between December and February, although activity can last as late as May.
For more information about the drive-by flu shot clinics conducted in the North Georgia Health District, visit www.nghd.org and click "news."