The American Public Health Association (APHA) has awarded the WIC on Wheels program, in the West Central Health District, with the Milton and Ruth Roemer Prize. This award was presented to Beverley Townsend, M.D., health director for the West Central Health District, during APHA's annual meeting in Atlanta.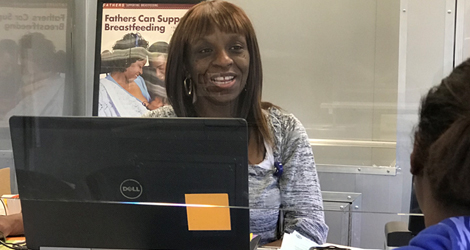 The Milton and Ruth Roemer Prize for Creative Local Public Health Work is awarded to a local government health officer in recognition of outstanding creative and innovative public health work.
"Our district provides public health services for clients in 16 counties in rural southwest Georgia," said Dr. Townsend. "I'm always encouraging my staff to think outside the box to find ways to improve public health outcomes, and WIC on Wheels is one example of how we've succeeded." 
During the last few years, the WIC caseload declined by about five percent in the West Central Health District. A survey revealed a major contributing factor for clients was the lack of transportation to the local WIC office. In 15 of 16 counties in the District, there is no public transportation and many clients do not have reliable vehicles. They are left must try to find a ride from family members or friends. Other clients in rural areas work extended hours at factories, farms or food processing plants, limiting their ability to come to their local health departments during business hours. 
In March 2015, WIC on Wheels was developed to provide services to those who had issues, like transportation, that prevented them from receiving assistance at a WIC office. The program was launched with limited resources by using an existing emergency preparedness trailer that was converted to office space.
Coretta Walton is a WIC client and the mother of three children. Because of the WIC on Wheels mobile unit, Nutrition Assistant Betty Jordan can provide services to Walton and her family, removing their transportation obstacles to vouchers for healthy foods, breastfeeding peer counselors, and referrals to other health and social services.
"Being on WIC is very helpful to me," said Walton. "At first, I went to the health department, but now I can use WIC on Wheels. There are no long lines, so it's faster." 
Because of the overwhelming success of the WIC Mobile Clinic, a new, custom-designed WIC on Wheels trailer was obtained using funds through a Special Operations Grant from the U.S. Department of Agriculture. 
"I have always wanted to find a way to serve clients who have barriers that keep them from coming to the local WIC office for services", said Columbus Health Department WIC Supervisor Brenda Forman. "WIC on Wheels has enabled us to help more than 2,100 women, infants and children throughout the West Central Health District." 
Currently, WIC on Wheels serves more than 300 active clients throughout the local community and at more than 20 Head Start Centers. The program also provides women with referrals to other services, such as prenatal care, infant development resources and support for breastfeeding mothers.
For more information on the WIC program, call 800-789-5502, or visit https://westcentralhealthdistrict.com/programs-services/women-infants-and-children-wic.