Georgia ranks fifth in the nation for adults and adolescents living with HIV according to the Centers for Disease Control and Prevention. To prevent new HIV infections, the Georgia Department of Public Health (DPH) is increasing awareness about pre-exposure prophylaxis or PrEP.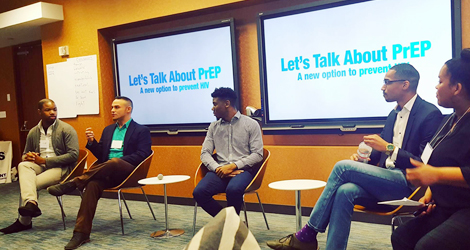 PrEP is a pill taken daily by HIV negative individuals before contact with someone who is HIV positive. PrEP contains two HIV prevention medicines that are also used in combination with other HIV medicines for the treatment of HIV. These medicines work together to keep the virus from taking hold inside the body when someone is exposed to HIV through sex or injection drug use.
PrEP is recommended for sexually-active MSM (men who have sex with men), heterosexual men and women who are at substantial risk of HIV infection and injection drug users.
"If taken as prescribed, PrEP reduces the chance of HIV infection by more than 90 percent in those exposed through sex and by more than 70 percent in those exposed through injection drug use," said Gregory Felzien, M.D., AAHIVS, medical advisor for the Division of Health Protection. "PrEP is a powerful HIV-prevention tool, and when it is combined with condoms, it reduces the risk of acquiring other sexually transmitted diseases."
Felzien also says PrEP, together with other prevention methods such as routine testing, provides even greater protection. Individuals who use PrEP must commit to taking the pill every day, and see their health care provider every three months. PrEP is not a cure for HIV.
The 6th Annual Georgia MSM Symposium, hosted by DPH's STD and HIV Office, was held in Atlanta in October. Among the participants in a panel discussion about PrEP were SpeakOut Ambassadors - young leaders between the ages of 18 and 30 who have demonstrated a commitment to responding to the HIV epidemic among racial-ethnic minorities.
"Comprehensive sexual health education is very important, period; especially for Black men who have sex with other men," said Torrian Baskerville, SpeakOut Ambassador. "Now, health education about PrEP is an important part of that conversation, too, because it can be a really viable option for individuals and it is a vital part of the strategy to end the HIV epidemic in this country." 
Data from a recent conference on retroviruses indicates that black men who have sex with men are disproportionately represented in the number of new HIV infections.
"We only represent about 10 percent of those using PrEP," said Baskerville. "With these numbers, the odds aren't good for changing the projection that 50 percent of Black men who have sex with other men will contract HIV in their lifetime by 2020."
In addition, data also indicates that the lifetime risk of HIV is one in six MSM, one in four Latino MSM, one in 11 White MSM, and one in 51 Georgians.
While PrEP is effective, there remain barriers and challenges for those wishing to access the medication. In addition to access, stigma and discrimination continue to play a major role.
Individuals at high risk for HIV infection can locate a PrEP clinic at Georgia CAPUS (Care and Prevention in the United States) at https://www.gacapus.com/r/resource-directory-2/.  With a health care provider, individuals can decide whether PrEP should be a part of their HIV-prevention plan.
The DPH Office of HIV/AIDS works to reduce the spread of HIV through prevention, HIV screening, education, community collaboration and by promptly identifying HIV-positive clients and linking them to medical care and support services. For more information, including PrEP resources, visit dph.georgia.gov/linkage-care.