The Georgia Department of Public Health (DPH) held its first "Creating an Asthma-Friendly School" Summit this fall. Attendees were encouraged to adopt a model policy and take other practical steps to improve learning environments for students who have asthma. Nearly 11 percent of Georgia's children have asthma, and many more are undiagnosed.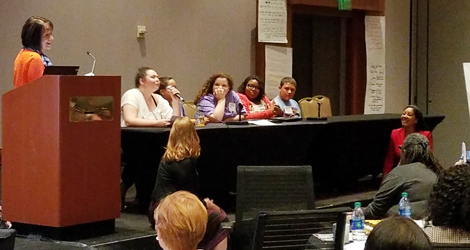 "We were absolutely thrilled with the participation at this year's summit," said Kia Toodle, deputy director for Adolescent and School Health at DPH. "The Asthma-Friendly School Policy was created a few years ago and released to the health districts. Now we have really launched to the masses. The summit presented the opportunity to engage key stakeholders and partners." 
In addition to unveiling the Georgia Asthma-Friendly School Policy, the summit featured student panelists from Coffee County Middle School in Douglas, Georgia. Students detailed the importance of a school environment free of asthma triggers. They discussed how educating themselves and other students and teachers about asthma helps them stay healthy and active.
Eliminating asthma triggers is key to the educational success of students in Coffee County and across Georgia. Common asthma triggers include tobacco smoke, motor vehicle exhaust, mold, insect droppings and pet dander. Self-management education is also key for youth with asthma. By learning how to manage their asthma and take their medication appropriately, and by having an asthma action plan approved by their physician, children can self-administer their medication at school and at home as needed.         
"Healthy kids really do learn better," said Jean O'Connor, J.D., Dr.PH., FACHE, director of Chronic Disease Prevention at DPH. "While asthma and some chronic conditions in children cannot be prevented, school districts that adopt proactive policies to create healthy environments, such as asthma-friendly policies, can help children succeed."
Every student at Coffee County Middle School was given an asthma control test. About 20 percent tested positive for asthma that was not well controlled. With parental permission, 67 students participated in the pilot program. Since the pilot began in February 2017, students have learned specific asthma management techniques ranging from identifying asthma triggers like perfumes and other scents at home and school, to learning how to properly use medication such as inhalers – all to control and possibly prevent asthmatic episodes.    
"Helping school-age children manage asthma requires teamwork," said Anne-Marie Coleman, MPH, Ph.D., policy analyst for Adolescent and School Health at DPH. "We are delighted to have a cross-sector partnership helping schools adopt an asthma-friendly environment. The Summit generated an opportunity to leverage resources across the state."
DPH's Asthma Control Program, in partnership with the Department of Education and the Georgia Asthma Coalition, is working toward adoption of the Asthma-Friendly School Policy in every school district in Georgia. 
Visit DPH online to learn more about asthma friendly schools and view resources available to support families and children living with this condition.