The Georgia Coverdell Acute Stroke Registry (GCASR) held a one-day conference in Forsyth with 150 stakeholders, including hospitals and emergency medical service agencies, to discuss improving Georgia's stroke systems of care with emphasis on post-hospital care.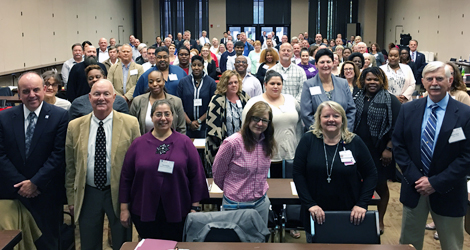 Epidemiologists from the Georgia Department of Public Health (DPH), EMS personnel, emergency room doctors and nurses, clinicians and medical students collaborated on ways to reduce geographic disparity in stroke care.
These professionals work directly with stroke patients before, during and after hospital visits for acute strokes. Presenters and panelists highlighted areas for improvement for Georgia in stroke care: understanding what happens to the brain during a stroke, awareness efforts to reach communities with high stroke rates, working with emergency management systems for quality improvement, coordinating medical information through GCASR, post hospital stroke care and building resilient communities and partnerships.
Georgia is in a geographic region called the "Stroke Belt," an area in the Southeast with stroke death rates about 30 percent higher than the rest of the country. In 2015, stroke was the fourth-leading cause of death in Georgia, resulting in 22,300 hospitalizations and over $1.1 billion in hospital charges.
Acute stroke is an emergency condition that arises from a ruptured artery (hemorrhagic stroke) or an arterial blockade (ischemic stroke) resulting in brain tissue death. Acute stroke needs prompt treatment. Those affected, particularly by ischemic stroke, would receive the clot-busting drug, Alteplase, if they arrive at a hospital soon after the onset of symptoms.
The FDA approved Alteplase for treating acute ischemic stroke in the first three hours of symptom onset. Moreover, experts estimate that 2 million brain cells die every minute that passes without restoring blood flow to area of brain. Time is essential in the management of acute stroke.
"It is crucial that acute stroke patients are brought to stroke-ready hospitals in Georgia and get assessed for appropriate patient care promptly," said Rana Bayakly, MPH, GCASR Principal Investigator and director of the Chronic Disease, Healthy Behaviors and Injury Epidemiology Section. "For better health outcomes, we must monitor and improve the quality of stroke care from pre-hospital, in-hospital and post-hospital."
As reported in The American Journal of Emergency Medicine using data from GCASR, acute ischemic stroke patients who were eligible for but did not receive intravenous Alteplase had 49 percent higher odds of dying at one year after an incident compared to those who received the treatment. Another study shows that patients who were treated during the first hour after hospital arrival had 28 percent better odds of having a favorable outcome at discharge than those who were treated any time after the first 60 minutes. Similarly, studies have shown that patients who had short intervals of hospital arrival-to-treatment time stayed in the hospital for fewer days. Those who were treated in the first 30 minutes of hospital arrival had a 19 percent shorter length of hospital stay than patients who received the treatment after 120 minutes.
From 2008 to 2017, hospitals participating in GCASR have shortened the average time it takes to administer intravenous Alteplase from 82 minutes to 51 minutes after patients' arrival.
"This is an encouraging improvement and a commendable achievement," said GCASR Lead Epidemiologist Moges Ido, M.D., Ph.D. "Nonetheless, it is critical that we raise public awareness in understanding the signs of stroke and the need to call 911 for swift transport of patients. And hospitals must shorten the time it takes to administer the lifesaving drug."
GCASR is one of nine state-based registries funded by the Centers for Disease Control and Prevention (CDC). CDC has recognized GCASR for increasing the high level of care patients receive from initial contact with a healthcare professional to post-hospital care. For more information, visit Georgia Coverdell Acute Stroke Registry.