Striving for excellence in immunizations every day, the Pickens County Health Department in Jasper, Georgia, was recently recognized for demonstrating leadership and influence in getting Georgians immunized. At this year's Immunize Georgia Conference, health department staff were presented with the Walt Orenstein Champions for Immunization Award. This award is named after Walter Orenstein, M.D., associate director of Emory University's Vaccine Center. It honors individuals, agencies or coalitions that demonstrate excellence in providing immunization care.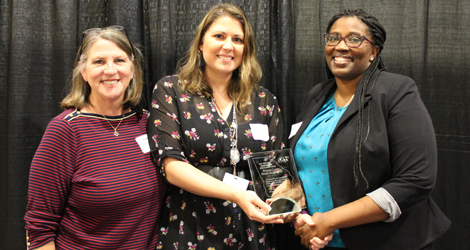 "Staff at the Pickens County Health Department were very excited to receive the Orenstein award," said Leyna Mashburn, RN, BSN, nurse manager. "From the clerks at the front desk to the nurses in the back, each staff member plays an integral role in making our immunization program a success. We strive to increase awareness about vaccines and vaccine-preventable diseases in our community through various outreach opportunities. The Pickens County Health Department is working toward keeping the citizens of Pickens County healthy!"
Clinicians at the Pickens County Health Department routinely incorporate immunization needs assessments into every client visit, such as family planning, STD testing and child health consultations. Client immunization records are accessed through the Georgia Registry of Immunization Transactions and Services (GRITS) and clients are strongly encouraged to receive all required and recommended vaccines to ensure they are up-to-date.
Staff continuously work with community partners to promote vaccines to every age group in schools, daycares, private providers and businesses to increase immunization rates for children, teens and adults.
They also identify any immunization issues or difficulties that need to be addressed.
When cases of infectious disease, such as pertussis also known as whooping cough, were identified in local schools, the Pickens County Health Department collaborated with the schools to identify, test and treat patients and conduct vaccination clinics as needed. They coordinated with the district health director, infectious disease staff and the public information officer to prepare information for distribution to local physicians' offices and to the community.
North Georgia Health District Immunization Coordinator Ashley Ridley, RN, BSHA said, "Dynamite comes in small packages. The Pickens County Health Department may be small, but the staff makes a significant impact on the community and the patients they assist. They deserve to be recognized for their hard work and determination to increase immunization coverage and decrease vaccine-preventable diseases."