Aukeaus Solomon, grants accountant for the Georgia Department of Public Health (DPH), is thankful for the Holiday Survivor Challenge and the health improvements he experienced over the 10-week program.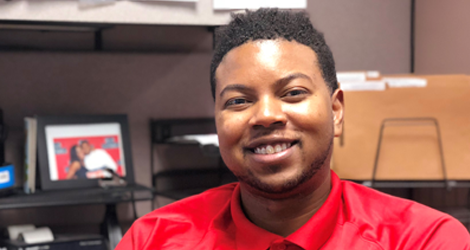 "I'm the type of person who enjoys the finer snacks in life," said Solomon. "But I seriously needed to make changes in my daily exercise and eating habits."
When a routine blood test during his yearly physical revealed high cholesterol, everything changed for Solomon. Bothered by the diagnosis and motivated by the possibility of having to begin medication regimen to control his cholesterol, Solomon decided to take serious action to improve his health.
According to the Centers for Disease Control and Prevention (CDC), having high blood cholesterol puts men and women at risk of heart disease—the leading cause of death in the United States. Additionally, people with high cholesterol have about twice the risk of heart disease as people with lower levels. The body needs some cholesterol, but it can build up on the walls of the arteries and lead to heart disease and stroke. Exercising, eating a healthy diet and not smoking will help prevent high cholesterol and reduce levels. Get a regular check-up, so you know your cholesterol level.
Total cholesterol levels less than 200 milligrams per deciliter (mg/dL) are considered desirable for adults. A reading between 200 and 239 mg/dL is considered borderline high and a reading of 240 mg/dL and above is considered high.
Solomon's involvement with 121 co-workers in the 2017-18 Holiday Survivor VI Challenge helped him to improve his overall health. 
"I started preparing my meals at least three times a week, and I stopped eating foods high in cholesterol," said Solomon.  "Most of all, I increased my intake of water which was the biggest challenge."
Holiday Survivor encourages a head start on cultivating healthier lifestyles ahead of the New Year.  Teams work together in a 10-week program from December to January with a focus on weight loss, weight management and physical activity. It offers a fun and supportive environment to encourage co-workers to set realistic weight loss goals, make mindful food choices and not over indulge in holiday foods and sweets.
DPH employees who have participated in Holiday Survivor have not only successfully lost or maintained weight, they have increased healthy behaviors, and decreased potential risk for cardiovascular disease," said DPH Worksite Wellness Coordinator Carmen Daniel. "This has been seen in various participants over the years, including normalizing A1C levels in diabetic participants, decreasing blood pressure and cholesterol. This is a testament to the immediate benefits of preventative health practices." 
In its sixth year, the Holiday Survivor Challenge is just one way DPH seeks to stymie rising trends in adult obesity in Georgia.  But Solomon is the first to admit that making this lifestyle change is not an easy feat.  That's why he appreciates the motivation he gets from his Survivor team members.
"I've had the best results when I worked out with a partner," said Solomon.  "Being able to see the results in co-workers or teammates and in myself has really helped keep me on track to reduce my cholesterol."
Although he didn't lose weight during this year's challenge, he didn't gain any either.  But perhaps most importantly, his cholesterol level is down significantly. Solomon is focused on maintaining a healthy lifestyle to reach a normal cholesterol level.  He offers advice to those considering the challenge.
"You don't have to be a fitness expert, just do something to get moving and make healthier food choices," said Solomon. "The idea of starting small kept me moving toward my personal goal.  If you just push yourself and don't do more than you can handle, you'll be successful."
DPH has had a good track record with this employee program. Participants in Holiday Survivor V Challenge lost a total of 515 pounds and 146 inches. Winners of Holiday Survivor VI Challenge will be announced in late February.