The Second Annual Cultural of Quality Day provided an opportunity for many of awards, recognition, teambuilding, and networking. The Georgia Department of Public Health (DPH) also decided to move closer to accreditation as a state health department.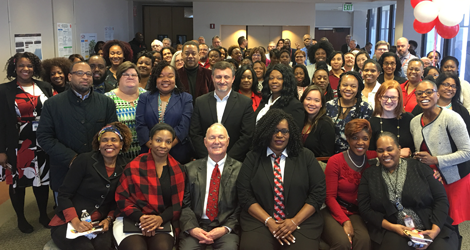 During the event, DPH employees displayed abstracts about how they have improved processes and delivery of services. Co-workers voted for the top three quality improvements for creating a culture of excellence. DPH's Chief of Staff Keisha Dixon recognized the winners from the programs and sections:
First place: The Georgia WIC Policy and Procedures Manual Redesign Project, presented by Deborah Dalambert from the Georgia WIC Program
Second Place: Birth Registration Improvement Process for Northside Hospital, presented by Justin Davis from the State Office of Vital Records
Third Place: Infant Death Registration Improvement Project, presented by Assumpta Ulasi from the State Office of Vital Records
Employees also voted and selected "The Building Blocks to Greatness" as the slogan for DPH's quality improvement efforts, submitted by Carmen Daniel, Worksite Wellness Coordinator.
Commissioner O'Neal authorized submission of the agency's documents that demonstrate DPH's conformity with standards and measures of accreditation to the Public Health Accreditation Board (PHAB). DPH has now completed three out of seven requirements for accreditation. Step three is one of the most important components of the accreditation process.
"DPH is creating a culture of constant improvement through the accreditation process," said Dr. O'Neal. "The environment is constantly changing. The science behind the work is evolving. DPH strives to be evidence-based and science-based."
Under the accreditation process, DPH programs are enhancing and strengthening their internal and external partnerships. Accreditation helps foster those collaborations, and quality improvement is part of the commitment.
 "Accreditation has been a road map for us," said Dr. O'Neal. "The next steps will be to move this well beyond 2 Peachtree to the districts and to local health departments. We want to make sure, across the agency, that we understand the domains as the road map for accreditation. We want everyone across the department to know our motivation is constant improvement."