New technology is behind a partnership between the Georgia Department of Public Health (DPH) and the Georgia Technology Authority (GTA). DPH and GTA streamlined the document-submission process for ordering birth certificates, death certificates and certified vital records through a program called, Request Official Vital Event Records, or ROVER, simplifying the overall transaction for all customers.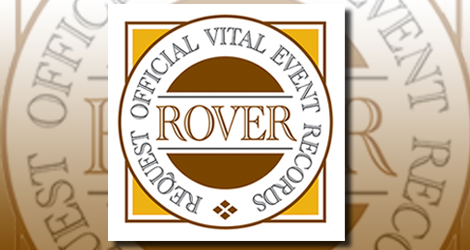 ROVER is the State of Georgia's official service for ordering certified copies of Georgia vital event records. This service is offered by DPH's Division of Vital Records.
Now Georgians, or persons as far away as California but seeking certified copies of a birth or death certificate from Georgia, can easily upload a valid photo ID online, along with the required documentation at the time of placing an order. Prior to the online service, customers mailed, faxed, emailed or hand-delivered documents following the order submission. The State Office of Vital Records required the documentation, especially photo ID, before fulfilling orders to protect customers from identity fraud risks. The old process caused long delays for customers.
The ability to upload files has reduced the amount of paper used in the overall process and eliminated some steps in order fulfillment. 
"The new process led to a faster turnaround time in completing 19,742 orders in 2017," said Ivan Sumter, GTA director of data sales. "The State Office of Vital Records published a shorter fulfillment timeframe, which is now two to three weeks for non-expedited shipping."
When DPH and GTA launched the online service in 2012, Georgia was one of only a handful of states to offer the service directly from a state entity.  The ability to order online benefits customers who are not close to local sources for vital records, in particular customers who are out of state. For others, it's simply more convenient to order from a computer, smart phone or tablet. Since streamlining the process with ROVER, over 118,316 birth and death certificates have been processed. That number is steadily increasing with customer satisfaction.
Birth certificates can be ordered by:                                      
registrant (person named on the certificate)
legal spouse
adult child  
adult sibling  
parent  
grandparent  
legal guardian 
legal representative
Death certificates can be ordered by:
legal spouse
adult child
adult sibling
parent
grandparent
grandchild
those with 'tangible interests (i.e., beneficiary,  trustee)
general public (certificate won't show cause of death
"GTA conducts an annual survey to solicit feedback from our customers," said Sumter. "We will continue to facilitate necessary changes with the goal of providing a higher level of service to thousands of customers."
The 2017 ROVER customer survey shows a satisfaction rate of 91 percent, and 90 percent of respondents said that ROVER is easy to use. To further ensure a smooth customer experience, ROVER features a checklist which helps customers to be prepared with the required documentation when they place their online order.  
To learn more, visit www.ROVER.ga.gov or contact the State Office of Vital Records at 404-679-4702.