Georgia is experiencing one of the worst flu seasons ever! For weeks, flu activity has been high and widespread throughout the state, and still appears to be increasing.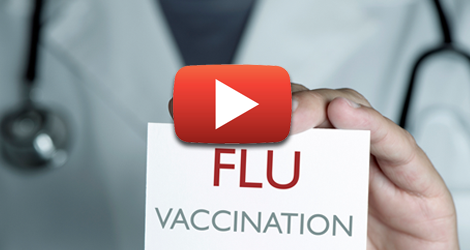 "We are seeing the highest number of flu-related hospitalizations and deaths since we began recording them," said Cherie Drenzek, DVM, MS, state epidemiologist. "The average flu season is between 11 to 20 weeks, so we may have many more weeks of flu ahead of us."
More than 1,800 people have been hospitalized with flu-related illness in the metro Atlanta area alone. Nearly 80 individuals, including three children, have died from flu-related illness, and those numbers are expected to increase.
The predominant strain of flu circulating in Georgia and around the country is influenza A (H3N2). This strain can be particularly hard on the very young, people over age 65, or those with existing medical conditions. However, we are also beginning to see an uptick in influenza B flu as we move later into the season.
It is not too late to get a flu shot. Flu vaccine is the best protection against the flu. H3N2 and influenza B are two of the strains contained in this year's flu vaccine along with one or two others, depending on the vaccine.
"As long as flu is circulating, it is not too late to get a flu shot," said J. Patrick O'Neal, M.D., DPH commissioner. "Every individual over the age of six months should get a flu vaccine – not just for their own protection, but to protect others around them who may be more vulnerable to the flu and its complications."
While it is common for the flu vaccine to be less effective against H3N2, the vaccine can provide protection against the other strains of flu and may even reduce the severity of symptoms, complications, and hospitalizations if you do get sick.
Health districts around the state have vaccinated hundreds of people without insurance or a medical home – in many cases at no charge.
"This has turned out to be an extremely bad flu season," said William Grow, M.D., district health director in Valdosta. "We want to ensure every person in our community has access to the flu vaccine, whether they can pay for it or not. Insurance carriers cover the flu vaccine for those that are insured."
There are other things you can do to help prevent the spread of flu – tried and true measures your mother taught you.
Frequent and thorough hand-washing with soap and warm water. Alcohol based gels are the next best thing if you don't have access to soap and water.
Cover your nose and mouth when coughing and sneezing to help prevent the spread of the flu. Use a tissue or cough or sneeze into the crook of your elbow or arm.
Avoid touching your face as flu germs can get into the body through mucus membranes of the nose, mouth and eyes.
If you are sick, stay home from school or work. Flu sufferers should be free of a fever, without the use of a fever reducer, for at least 24 hours before returning to school or work.
Emergency departments around the state are overflowing with sick people. For the first time, Atlanta's Grady Memorial Hospital has had to set up a mobile emergency department outside to handle the overflow of patients. The mobile facility is in the hospital's parking lot next to where ambulances pull up to deliver patients.
The best advice is for people who think they have the flu is to call their doctor or healthcare provider. Most people who go to the emergency department don't need that level of care. And if they don't have the flu, they risk being infected by those who do. Anyone with a medical emergency or life-threatening symptoms, such as difficulty breathing, chest pain or persistent vomiting, should not hesitate to call 911 or go directly to the hospital.