Students, teachers, school administrators and visitors can now breathe easier in Dade County. Dade County recently adopted the 100 percent Tobacco-Free School Policy. Out of 181 school districts in Georgia, Dade becomes123rd in adopting the policy. This also means all ten counties in the Northwest Health District - Bartow, Catoosa, Chattooga, Dade, Floyd, Gordon, Haralson, Paulding, Polk and Walker - have tobacco free policies in their schools.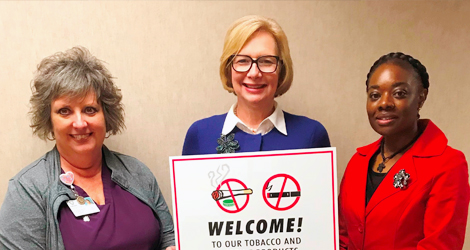 "Tobacco-free schools save lives," said Unini Odama, M.D., health director for the Northwest Health District. "The Dade County Board of Education has demonstrated transformational leadership by eliminating exposure to secondhand smoke in schools and reducing youth tobacco use in Northwest Georgia."
The addition of Dade County Schools brings the total number of Georgia youth who are discouraged from using tobacco and protected from the dangers secondhand smoke to almost 1.5 million (including both charter schools and public-school districts). 
"Children spend almost a third of their waking time in school, so we are in a uniquely powerful position to play a major role in reducing the serious problem of smoking and other tobacco use by kids," said Dade County Schools Superintendent Jan Harris, PhD. "Adopting the 100percent tobacco-free policy in Dade County Schools will have an enormous impact on the health and well-being of our students."
Under the policy, no student, staff member, or school visitor is permitted to use any tobacco product or e-cigarette at any time on school property or at school sponsored events. 
"Almost 13 percent of Georgia high school students smoke," said Odama. "That's higher than the national rate of about 8 percent. And 8.6 percent use e-cigarettes. Ninety percent of Georgia's smokers started using tobacco before the age of 18, and by eliminating tobacco use in schools, we can reduce the likelihood that children in Georgia will start to use tobacco as well as protect children and adults from the effects of secondhand smoke."
Tobacco use causes heart disease, cancer, diabetes and premature death. In a young person, smoking can damage the heart and lungs right away and in some cases, the damage never goes away. Studies show that eliminating tobacco smoke in an environment can reduce the incidence of heart-attack-related hospital admissions by 10 to 40 percent.
Young people are also sensitive to nicotine. The younger they are when they start using tobacco, the more likely they are to develop an addiction to nicotine, and over a lifetime, they'll become even more heavily addicted.
All Georgians, including students 13 to 17 years old, can call the Georgia Tobacco Quit Line at 1-877-270-STOP (7867) or 1-877-2NO-FUME (877-266-3863) and receive confidential counseling on how to quit smoking.
Visit the U.S. Surgeon General's website for more information about the harmful effects of smoking and preventing tobacco use among youth and young adults. To learn more about the Georgia Department of Public Health's efforts to help schools become tobacco-free, visit https://dph.georgia.gov/schools.