The excuses that men have for avoiding a trip to the doctor could probably be compiled into a best-selling book. However, wages lost and an inability to see a doctor after the workday ends, are just two excuses that low-income, uninsured, or underinsured men in DeKalb County won't be able to use now.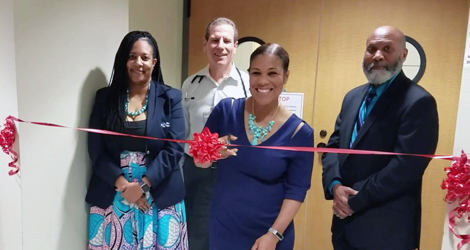 On February 21, the DeKalb County Board of Health, with funding from the Fulton-DeKalb Hospital Authority, and volunteer medical professionals from DeKalb Medical's Physicians Care Clinic, officially opened the Men's Health and Wellness Clinic, with five appointments scheduled for the same evening.
"Since we fund projects at DeKalb County Board of Health and Physicians Care Clinic, it is important to see our partners collaborate," said Keri Norris, Ph.D., MPH, chief of health policy and administration for the Fulton-DeKalb Hospital Authority. "This sets a precedence for everyone else to follow, to mimic this model, and to do what true partnership calls for – action, access, and equality."
Housed within the DeKalb County Board of Health's T.O. Vinson Health Center in Decatur, the clinic is open on Wednesday and Thursday evenings by appointment, with capacity to serve eight patients per evening. As part of a larger men's health initiative, the clinic will support non-emergency, chronic disease management, and primary care medical services, including pharmaceuticals, as well as disease-specific education and community health outreach activities targeting DeKalb County men.
"This is the culmination of six years of hard work, wishing and dreaming, to have a medical home here in DeKalb County for our uninsured and underinsured men," said DeKalb District Health Director S. Elizabeth Ford, M.D., FAAP. "With the help of our partners, we are pleased to provide a resource for men to receive free preventative services and view this accomplishment as a stepping stone to addressing men's health in DeKalb County."
According to DeKalb County's 2015 Status of Health Report, DeKalb County's African-American males have the highest rates of diabetes, cancer and various types of cardiovascular diseases (blood pressure, hypertensive heart disease, obstructive heart disease and stroke) when compared to other racial groups. Furthermore, DeKalb County's males experience worse health outcomes and have lower life expectancies than their female counterparts. 
For more information about the DeKalb County Board of Health's Men's Health and Wellness Clinic, call 404-294-3700.