Gov. Nathan Deal, First Lady Sandra Deal and special guests kicked off "Read Across Georgia Month" during "Get Georgia Reading Day" at the State Capitol on March 5.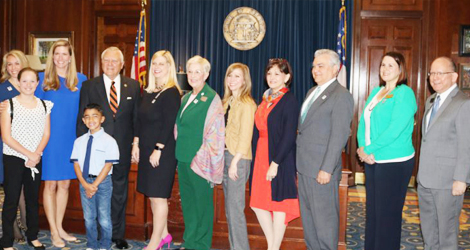 Get Georgia Reading Day focuses on reading and literacy skills as critical components for building a brighter future for Georgia's children. The Georgia Department of Public Health has been a leader on the Get Georgia Reading Campaign Cabinet since its beginning in 2013 by committing to help get Georgia's children on track to read to learn by third grade. The goal is to increase reading proficiency as a critical marker on the path to quality of life. The end of third grade marks the critical time when children shift from learning to read to reading to learn.
"Our leaders and partners are coming together in ways unimaginable," said Arianne Weldon, director of Get Georgia Reading Campaign. "We are making innovative choices to be bold to help all Georgia children read to learn." 
During Get Georgia Reading Day, Governor Deal urged all Georgians to be active participants during Read Across Georgia Month, and remain committed to the priority of increasing early reading aptitude and literacy beyond his administration. Speaking directly to the audience of young students, Mrs. Deal reminded them that with reading, they all had the capacity to do remarkable things.
Carmen Agra Deedy read excerpts from her children's book, "The Forever Tree," scheduled to be published this fall.  Deedy was greeted by an enthusiastic crowd of Pre-K and elementary school children.  
"We hope our young readers will be like Georgia pines," she said. "We'll have more and more and more of them."
Thanks to a partnership with the Georgia Forestry Foundation, the Get Georgia Reading Campaign will provide each public elementary school library in the state with a copy of "The Forever Tree" which will be printed on paper from Georgia.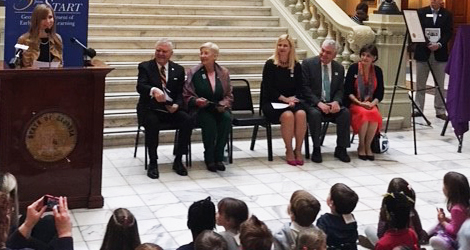 When it began in 2014, the Get Georgia Reading Campaign partners developed a common agenda, comprised of four pillars, as a framework for action. Partners are applying this framework to create conditions essential for every child in Georgia to be on a path to literacy. Language Nutrition is one of those pillars, and DPH works with partners across the state to establish early brain development and Language Nutrition as a statewide priority for school readiness.
New approaches to strengthen the four pillars, such as Talk With Me Baby, one of the first approaches to strengthen the Language Nutrition pillar, is expanding statewide through large-scale workforces and systems, including nurses, WIC and foster parents.
Another way the framework has been applied is through the summer Lunch at the Library initiative. Since 2014, Georgia Department of Education, Department of Early Care and Learning, and the Georgia Public Library Service have partnered to deliver nutritious meals coupled with educational programming, with a focus on reading, at public libraries during the summer months. This effort began with the specific goal of reaching children in 22 Georgia counties with no summer meal programs. Since its launch, the partnership has grown to include nearly 100 library meals sites and reducing the number of counties without meal programs to 2 in 2017.  The summer meal programs in public libraries help reduce childhood hunger and learning loss during the summer months by providing regularly-scheduled, free and healthy meals.