On March 23, 2018, the Taliaferro County Health Department, the East Central Health District, state agencies and local community partners, conducted a Strategic National Stockpile Drive-thru exercise in Crawfordville, Georgia. The scenario for this event was a simulated Inhalation Anthrax attack upon the residents of Crawfordville.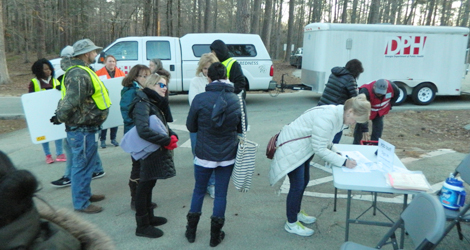 The exercise was conducted to see how quickly the health department could work a point of dispensing (POD) drive-thru. The objective in the scenario was to distribute antibiotics prophylaxis to the entire county population within 48 hours in response to an anthrax attack. The Centers for Disease Control and Prevention's protocol says dispensing should not exceed 48 hours. The exercise took place A.H. Stephens State Park. The goal was to activate the drive-thru POD and to successfully dispense medications to all county residents.
"Training exercises are critical to assure that our community is prepared in the event of emergencies or disasters", said Kenya Smith, county nurse manager for the Taliaferro County Health Department. "This exercise will help us fine-tune our abilities and skills to respond to disasters, as well as identify areas that need improvement."
The targeted objectives for this exercise involved establishing and operating effectively within a National Incident Management System Compliant Unified Incident Command System (NIMS), which is a system by which exercises are assessed. The federal government along with state government recognizes NIMS so that we can be the same throughout multiple jurisdictions and states.
The following four stations were active during the simulation to provide medication:
(1) Greeting Station: Drive-thru patients are greeted and given information sheets on Anthrax and a screening form. Patients complete the screening form before moving to the next station. 
(2) Screening Station: Nurses review the screening form and assist in completing it, if necessary. Nurses assess patients and direct them to the Additional Needs Station or the Dispensing Station.
(3) Additional Needs Station: Patients that require additional assistance (completing forms, mental health services, translator, etc.) visit this station. 
(4) Dispensing Station: Patients receive medication and information sheets about the medication they received.
The exercise was a success due to the involvement of the entire district. Health district staff members and Medical Reserve Corp members acted as patients needing medications.
Based on the number of cars that visited the drive-thru each hour, in a real emergency, medications could be dispensed to the entire population in the county within the timeframe specified by the CDC.