Tobacco users and smokers in Georgia can get help quitting during the "Tips From Former Smokers®" Campaign sponsored by the Centers for Disease Control and Prevention (CDC), Office of Smoking and Health.  In its seventh year, the Tips® campaign profiles real people who are living with serious and long-term health consequences from tobacco use and second-hand smoke exposure.  Smokers are encouraged to quit for good.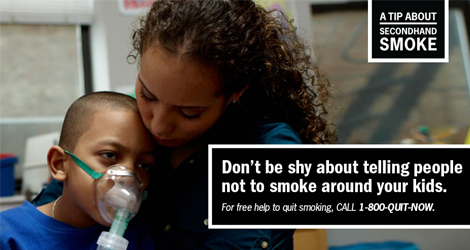 Tips® ads began airing in Georgia on April 23 and will include 21 weeks of testimonials from former smokers via television, digital, print radio and cable. They conclude around Oct. 14.  CDC purchased additional air time on television and radio for increased awareness in the Albany market and the Southwest Health District because of higher rates of cigarette smoking there.
The Georgia Department of Public Health (DPH) is collaborating with CDC on the Tips® message to increase awareness of quitting tobacco use.
Tobacco use is the leading cause of preventable illness and deaths in tobacco users and non-users in Georgia. About 10.1 percent of deaths among Georgia adults are linked to smoking. There are approximately 600 ingredients in cigarettes, and when burned, they create more than 7,000 chemicals. At least 69 of these chemicals are known to cause cancer, and many are poisonous.
"Tips® continues to help Georgians quit tobacco use for good," said Kia Toodle, director of the Chronic Disease Prevention Section at DPH. "The smoking cessation counselors are prepared for the surge in calls during the campaign with as many as 2,000 calls a day to the Georgia Tobacco Quit Line. Tips® has been very successful in helping vulnerable populations give up nicotine addiction."
Tips® features compelling stories of former smokers living with smoking-related diseases and disabilities and the toll these conditions have taken on them. The campaign also features nonsmokers who have experienced life-threatening episodes because of exposure to secondhand smoke.
The 2018 campaign uses new ads:
CDC estimates more than 5 million smokers attempted to quit because of the anti-smoking campaign and more than 500,000 quit for good.
Any Georgia resident, whether a tobacco-user or not, can call 1-800-QUIT NOW or the Georgia Tobacco Quit Line at 877-270-STOP (7867), for information or counselling on tobacco use and cessation. All tobacco users ages 13 and over can obtain cessation counselling, and those ages 18 and over can receive free Nicotine Replacement Therapy (NRT) when available. If you are a tobacco user, ask your healthcare provider for a referral to the Georgia Tobacco Quit Line. Encourage family members and friends who use tobacco to talk to their healthcare provider for help quitting.
According to Tips® campaign evaluations and calls to the national quit line, Tips® results show an increase in awareness of the health consequences of smoking, quitting attempts and quitting for good:
In 2017, there were a total of 267,594 calls attributable to the Tips® campaign.
In 2014, an estimated 1.83 million smokers attempted to quit smoking and 104,000 smokers quit smoking for good.
In 2012, non-smokers reported increased conversations with family or friends about the dangers of smoking and had greater knowledge of smoking-related diseases.
In 2012, Tips® campaign motivated an estimated 1.64 million smokers to make a quit attempt and about 100,000 smokers to quit for good.
In 2012, approximately 17,000 premature deaths from smoking were estimated to be averted, and 179,000 years of healthy life gained.
Smokers who have seen Tips® ads report greater intentions to quit within the next 30 days and next 6 months, and smokers who have seen the ads multiple times have even greater intentions to quit.
Tips® ads focus on many health issues caused by, associated with, or made worse by smoking or exposure to secondhand smoke, including:
Cancer (lung, throat, head and neck, colorectal)
Heart disease
Stroke
Asthma
Diabetes complications
Buerger's disease
COPD (chronic obstructive pulmonary disease)
Gum disease
Preterm birth
HIV (human immunodeficiency virus)
Vision loss
Dual use (the current use of both cigarettes and electronic cigarettes)
Mental health conditions (depression and anxiety)
The Tips® campaign engages public health, doctors, nurses, dentists, pharmacists, and many other health care providers so they can encourage their patients who smoke to quit for good.
CDC and DPH offer this tip to expectant mothers: If you are pregnant or thinking of becoming pregnant you should not use tobacco products before, during or after pregnancy. Talk with your doctor on how you can quit to increase your chances of a healthy pregnancy and birth. Smoking while pregnant puts your baby at risk for certain birth defects. No level of second-hand smoke exposure is safe.