Asthma is a chronic lung condition that inflames and narrows the airways. There is no cure for asthma, but it can be managed. Schools can help by adopting asthma-friendly policies and procedures; coordinating communication with physicians, school personnel, children with asthma and their families, and by providing asthma education for students and staff to better serve their students with asthma.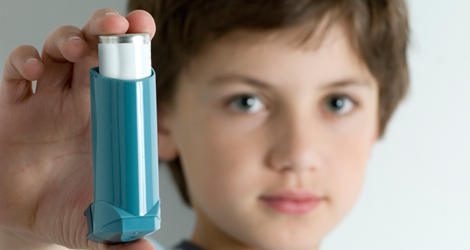 An Asthma-Friendly School provides a safe and healthy environment that reduces asthma triggers and maximizes the health, quality of life, and educational outcomes of all children. Schools can support asthma self-management in children by adopting asthma-friendly policies and procedures.
In a recent school meeting in Douglas County, one parent whose child suffers from severe allergies inquired about the availability of epinephrine in the event of a severe allergic reaction at school. Her inquiry prompted school officials to look into the availability of epinephrine.
After some research, school officials reached out to the Cobb & Douglas Health Department (CDPH), the Georgia Department of Education and the Georgia Asthma Coalition to secure training for school nurses and health monitors to administer emergency asthma medications.
Out of 181 school systems in Georgia, Douglas County School System is now among five that meet the Georgia Department of Public Health's Asthma-Friendly designation requirements.
The Georgia law permits primary and secondary schools to stock albuterol and epinephrine, and it protects those who deliver the medications in good faith to any child believed to be experiencing respiratory distress.
Stocking epinephrine for allergic reactions and albuterol for asthma attacks can be a life-saving strategy for asthma management in school settings. It is also a key component of becoming an asthma-friendly school district. 
A physician licensed to practice medicine in this state, an advanced practice registered nurse and physician assistant may prescribe levalbuterol sulfate or albuterol sulfate in the name of a public or private school. A pharmacist may dispense levalbuterol sulfate or albuterol sulfate to a public school or private school presenting a prescription.
Douglas County School System Superintendent Trent North sought resources to stock epinephrine and albuterol. Nancy McCready, RN, health services coordinator for the Douglas County School System, contacted Cobb & Douglas Public Health and the Georgia Department of Education for support in creating an asthma-friendly environment.
McCready was referred to the Georgia Asthma Coalition for training to properly administer albuterol in case of an emergency. The coalition also helped the school system successfully apply for a free source of EpiPens through the EpiPen4Schools program. 
The EpiPen4Schools® program, offered by Mylan Specialty, the marketer and distributor of EpiPen® (epinephrine injection) and EpiPen Jr® (epinephrine injection) Auto-Injectors, helps to improve access to epinephrine in the event a person experiences a life-threatening allergic reaction (anaphylaxis) in the school setting. The program offers four FREE EpiPen® or EpiPen Jr® Auto-Injectors to qualifying public and private kindergarten, elementary, middle and high schools.
Anne-Marie Coleman, M.P.H., Ph.D., policy, program and planning advisor for the Georgia Asthma Control Program, provided technical assistance to CDPH on how schools can implement the Georgia law.
"There are now five Asthma-Friendly schools equipped to help asthmatic students in Georgia: Cobb County Schools, Douglas County Schools, Ware County Schools, Coffee County Schools and Forsyth County Schools," said Coleman.
Click here to view the Asthma Friendly Schools Toolkit for your school.