Ashley Moore, MPH, is an epidemiologist at the Georgia Department of Public Health (DPH) and she is accustomed to helping find the cause of diseases, illnesses and outbreaks and providing solutions to stop the spread of the disease to save lives.
Moore used these same skills during a recent personal illness to rebuild strength and stamina.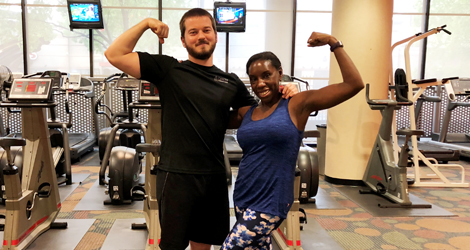 In July 2014, she was diagnosed with Aplastic Anemia, which is a rare disease that effects one's bone marrow and results in low blood counts. After several trials of different treatments from several doctors, the best course of action was determined to treat the illness as a form of cancer. In April 2015, Moore received chemotherapy and radiation treatments. From the treatments, she lost the ability to perform normal activities, such as walking up the stairs or standing in the shower. In October 2015, she returned to work in DPH's Epidemiology Section after completing treatments.
Prior to her illness, Moore was an instructor for belly dance, yoga and cycling at Capitol Hill Fitness Center (CHFC).  Nearly a year after returning to work, she sought personal training at CHFC to improve her fitness results and make a comeback from her illness. Her biggest motivation was not overcoming her illness but keeping up with her family. The two most influential people in her life motivated her to better health.
"After I was well enough to resume activity, I changed my health and fitness habits to keep up with my family," said Moore. "My husband and daughter are athletes, so I wanted to keep up with them. Personal training gave me back control in my life.  For me, I can't control genetics, but I want to control what I can control. I can control what I eat and my physical activity."
The location of the Fitness Center made it convenient for Moore to workout with her personal trainers. In addition, DPH's Physical Activity Policy encourages employees to engage in physical activity for at least 30 minutes of their scheduled work day. DPH's policy made it easier for Moore to make a comeback and get stronger for personal training. 
"I found it easy to ride the elevator to the Fitness Center. I mean, why wouldn't I go? The staff members have knowledge that no application on your smartphone can compete with. When I'm away on vacation or using an exercise app, the results are not as good as when I'm one-on-one with the personal trainer."
In the last seven months, Moore worked incredibly hard, pushing herself in her sessions and being diligent in making better food choices and meal preparation. She lost 17.5 pounds, improved exercise technique and increased her squats by almost 50 percent, which allows for greater lower-body and core strength to make it easier to participate in daily activities. After celebrating her third transplant birthday in April, Moore still takes medication, and remains in recovery for another two years, but her health has drastically improved, so much so that her doctors have taken note of how fast she has been able to exceed expectations.
The Fitness Center has been one of the most visible programs of Worksite Wellness for all state employees and contractors to  use in their journey for better health and fitness. Located on the first and second floors at 2 Peachtree Street, group classes, personal training and special programs help employees improve their health and fitness goals. Nationally-accredited personal trainers are available to assist all members. Employees can walk step-by-step through their individualized exercise program. This strategy adds intention to reaching fitness goals in a timely manner.
If you are struggling to see results on your own, or your healthcare provider wants you to work out to get better results or improve your quality of life, visit the Capitol Hill Fitness Center.  For more information about services, visit Capitol Hill Fitness or email DPH-CapitolFitness@dph.ga.gov.