Seventy-nine percent of stroke patients in Georgia had a history of hypertension, and 78 percent were on anti-hypertensive medication the week prior to their hospital admission for acute stroke, according to the Georgia Coverdell Acute Stroke Registry (GCASR).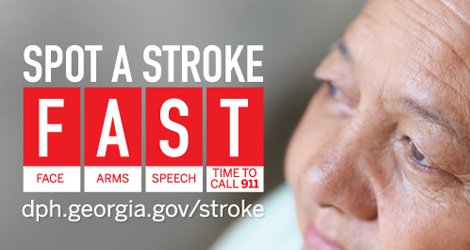 "This essentially means that four out of five patients in Georgia had hypertension at the time of their stroke," said DPH's GCASR Lead Epidemiologist Moges Ido, M.D., Ph.D. "Uncontrolled hypertension leads to stroke. There is more work to be done for patients to reduce their stroke risks through lifestyle changes, and when necessary, medication."
The Georgia Department of Public Health (DPH) is one of nine health departments funded by CDC for managing the GCASR, which is key in providing data to improve stroke patient care from initial contact with a health care professional to the point when they're released from the hospital and sent home.
Georgia is in a geographic region called the "Stroke Belt," an area in the Southeast with stroke death rates about 30 percent higher than the rest of the country. In 2015, stroke was the fourth-leading cause of death in Georgia, resulting in 22,300 hospitalizations and over $1.1 billion in hospital charges.
"Stroke ranks fifth for all deaths in the U.S., and Georgia ranks seventh in the U.S. for stroke death" said Rana Bayakly, M.P.H., GCASR principal investigator and director of the Chronic Disease, Healthy Behaviors and Injury Epidemiology Section at DPH. "In 2016, stroke death dropped to the sixth leading cause of death in Georgia. We are making progress thanks to GCASR which allows us to analyze the data on treatment and delivery of care for stroke patients."
In Georgia, over 2.7 million adults, or 35 percent of Georgia's adult population, have hypertension. Managing high blood pressure is important because if left uncontrolled, it can lead to stroke, coronary artery disease, heart attack, congestive heart failure, kidney damage, vision, erectile dysfunction in males and even death.  
"Uncontrolled hypertension is one of the major risk factors for heart attack and stroke," said Monyette Childs, M.D., M.P.H., cardiovascular health program manager at DPH. "One of the most important things you can do to reduce your risks of heart disease and stroke is to control your blood pressure. Work with your healthcare provider to make lifestyle changes or take medication if it is needed to keep your blood pressure in a healthy range and protect your heart and brain."
Common risk factors for hypertension include family history of high blood pressure, poor diet, too much salt, smoking (and second-hand smoke exposure), drinking too much alcohol, lack of physical activity, having diabetes, being overweight or obese, and African American race.
A blood pressure less than 120/80 mmHg is normal. A blood pressure of 140/90 mmHg or more is too high. People with levels from 120/80 mmHg to 139/89 mmHg have a condition called prehypertension, which means they are at high risk for high blood. Prehypertension is blood pressure that is slightly higher than normal.
High blood pressure is one of the most prevalent chronic diseases for which treatment is available. Because the consequences of high blood pressure are so serious, early detection, treatment and control are critical:
Manage your blood pressure
Know if you are prehypertensive
Don't smoke; talk with your doctor about how you can quit using tobacco
Discuss an aspirin regimen with your doctor
Control your cholesterol
Reduce blood sugar and control your diabetes
Reduce sodium in your diet
Get active and start moving
Eat more fruits and vegetables
Lose weight if you need to
Reduce and manage stress
DPH recently interviewed leading experts regarding stroke prevention and treatment.  You can watch the discussion on YouTube with Michael R. Frankel, M.D., GCASR Medical consultant and Chief of Neurology at Grady Memorial Hospital, Holley Adams, B.S.N., R.N., Stroke Coordinator for the Northeast Georgia Health System, and Deputy Chief Anthony Grimaldi, Clayton County Fire & Emergency Services.
For additional stroke resources from DPH, visit high blood pressure control and the Hypertension Management Action Guide for Health Care Providers.  
For additional smoking cessation resources from DPH, visit Tobacco Use Prevention Program--Ready to Quit.