The Georgia Public Health Laboratory, or GPHL, was awarded the "2018 TB Elimination Champions Award" by the Centers for Disease Control and Prevention's (CDC) U.S. TB Elimination Champions Project. This award recognizes accomplishments and best practices from people and organizations working on effective and engaging ways to end TB in the United States.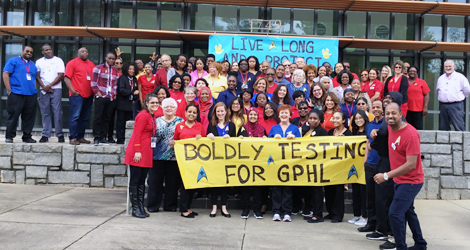 CDC recognized the GPHL for their work during Hurricane Maria, which made landfall in Puerto Rico on September 20, 2017. The aftermath and storm damage to the Puerto Rico Department of Health (PRDOH) infrastructure, including laboratory buildings and equipment, rendered them largely inoperable and unable to test and diagnose tuberculosis (TB) samples among Puerto Rico's 3.5 million people. This made it necessary for samples to be shipped out to CDC for triage testing.  
Between October 2017 and early February 2018, PRDOH received, packaged and shipped 231 TB specimens to CDC for referral to three state public health labs. One was the Georgia Public Health Laboratory, which tested and reported results for PRDOH.
"Airborne diseases, such as TB, are very infectious and it's important to test, diagnose and treat persons with communicable diseases to prevent an outbreak among the population, especially after a natural disaster where people are displaced and may move to shelters," said Michelle Allen, director of the Georgia Department of Public Health's Infectious Disease Section. "I join the CDC in congratulating the staff members at GPHL and Dr. Elizabeth Franko, who serves as GPHL laboratory director. Their efforts show strength in partnership to support Puerto Rico's TB testing needs after Hurricane Maria. Dr. Franko is a true leader, and the GPHL embodies moving from 'good to great."
A collaboration between the Public Health Laboratory and TB Control Program, CDC Division of Tuberculosis Elimination Laboratory Branch, CDC Emergency Operations Center Laboratory Team, and the Association of Public Health Laboratories, resulted in the implementation of a temporary transport system for Puerto Rico's specimens from Puerto Rico to CDC.
"Georgia Public Health preparedness and response efforts depend on the collaboration and team work of dedicated public health laboratory staff," said Dr. Franko. "The GPHL TB unit has tested 216 specimens from Puerto Rico. We are doing our job and are happy to provide support to our colleagues there."
Visit DPH online to learn more about the TB Prevention and Control Program.