If you ever want to see a genuine smile, meet Martha Johnson. She'll quickly remind you of the many things most people take for granted each day. For more than four years, Johnson dealt with excruciating pain in her mouth due to health issues. She said there were times she could barely walk due to the pain and poison throughout her body stemming from the issues with her teeth and gums.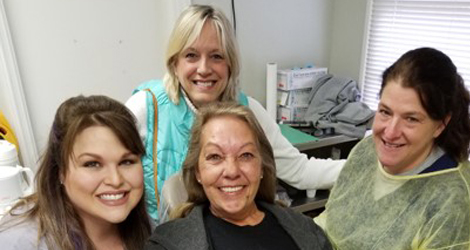 Through a friend's chance meeting, Johnson was connected with Cumi Fillion, registered dental hygienist and oral health coordinator for the South Health District. After hearing Johnson's story and seeing the condition of her mouth, Cumi immediately connected her with John Sparks at the dental clinic with the Partnership Health Center.
"When I met Martha, she was in so much pain that she was hunched over in the fetal position, and she weighed only 84 pounds," said Fillion. "I knew she needed help immediately."
Through pain medication and homecare remedies, such as using needle nose pliers to pull teeth, and using salt and hot water to gargle, Johnson was able to relieve some of the pain most nights. She said there were many nights when the pain was so intense she begged God to just take her home.
Through the work of Drs. William Broadfoot, Joseph Kirbo and Heather Colson Hardy, who volunteered their time through the Partnership Health Center, Johnson now has a new, beautiful smile.
"Children aren't scared of me anymore," she said. "I smile up into the sunshine to my Father every day now."  
To get her new smile, Johnson had to go through a two-and-a-half-year process. Dr. Broadfoot and Dr. Kirbo performed the needed extractions on her teeth one quadrant at a time. Before Dr. Colson Hardy could make dentures for Johnson, the group had to wait for everything to heal completely. Johnson says she remembers Dr. Colson Hardy promising she'd make her a beautiful smile.
And she did.
"Sometimes dentures don't fit perfectly," said Fillion. "These fit like a glove. I can't say enough about the work the dentists and nurses did for Martha."
"When they handed me the mirror after placing my dentures, I was speechless," said Johnson. "I realized I could hold my head up again. I was no longer embarrassed. Cumi, Public Health and the Partnership Center saved my life."
The Georgia Department of Public Health promotes good oral health throughout life. Some things adults and children can do to maintain a healthy mouth and strong teeth are:
Drink fluoridated water and brush with fluoride toothpaste.
Practice good oral hygiene. Brush teeth thoroughly and floss between the teeth to remove dental plaque.
Visit your dentist on a regular basis, even if you have no natural teeth or have dentures.
See your dentist during your pregnancy to keep your baby and you healthy.
Do not use any tobacco products. If you smoke, quit.
Limit alcoholic drinks.
If you have diabetes, work to maintain control of the disease. This will decrease risk for other complications, including gum disease.
If your medication causes dry mouth, ask your doctor for a different medication that may not cause this condition. If dry mouth cannot be avoided, drink plenty of water, chew sugarless gum, and avoid tobacco products and alcohol.
See your doctor or a dentist if you have sudden changes in taste and smell.
When acting as a caregiver, help older individuals brush and floss their teeth if they are not able to perform these activities independently.
To determine your eligibility for dental care from your local health department, visit the South Health District's website for more information on oral health.