During the two-year anniversary of the Fulton County PrEP Clinic, Chief Communicable Diseases Clinical Officer David Holland, M.D., discussed its challenges and success at the annual Conference on Retroviruses and Opportunistic Infections, or CROI, held in Boston.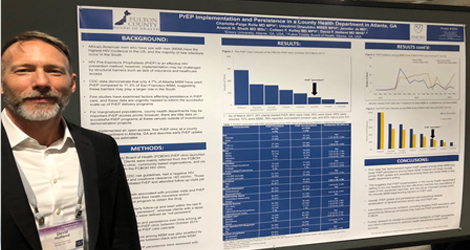 "Many of Fulton's clients dropped out of the program over time," said Dr. Holland. "However, there was no difference in the rate of discontinuation based on gender or race."
However, Dr. Holland also indicated that Fulton's public health workers steadily increased PrEP enrollment for a key, at-risk group: African American men who have sex with men, commonly referred to as MSM. 
"Getting MSM enrolled in PrEP will help counter the general racial disparity in PrEP uptake that has been seen in other studies," said Dr. Holland.  "We have a lot of work to do, but we are on the right track."
The CROI conference brought together emerging and leading clinical researchers from around the world to share the latest studies and research methods in the ongoing battle against HIV/AIDS and related infectious diseases.
During his presentation, Dr. Holland indicated that enrollment in PrEP in Fulton County mirrored the slower rates commonly found in the South due to barriers such as access to healthcare. 
For more information about HIV prevention, clinics and Pre-Exposure Prophylaxis or PrEP, visit Fulton County Board of Health.