Trust is the foundation of successful teamwork. Employees of the Northwest Health District 1-1 recently met outside the office to participate in a day of challenging exercises designed to strengthen itsculture of trust.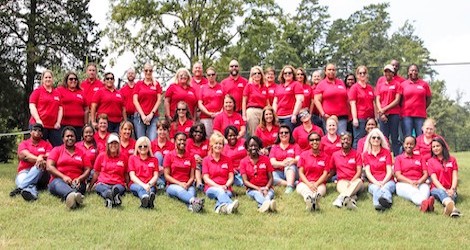 Focusing on teamwork, excellence and accountability, called "TEA" by District Health Director Dr. Unini Odama, exercises emphasized communicating effectively, celebrating others and solving problems efficiently.  
"I learned that trust is the bedrock upon which everything else is built, and everything the team attempts will be impacted by the level of trust members have for one another and for the organization," said a participant. 
The daylong event was conducted by WinShape Teams and held at WinShape Center on the Berry College campus in Rome, Georgia. It was organized by the district's Wellness Committee under the guidance of Kassi Pichardo, Early Hearing Detection and Intervention and Children 1st coordinator.  
"When planning the event, we used Dr. Odama's overarching theme: Public Health in harmony, working together in effective and efficient teams," Pichardo explained. "We selected exercises that would build trust, help eliminate silos and embrace teamwork."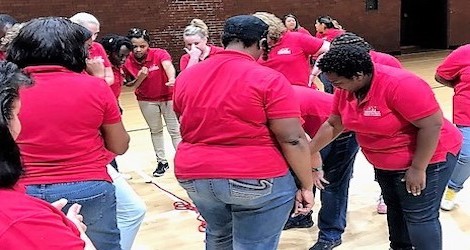 One activity involved 30 sequential "pictures within pictures." Teams had to put together a story from a set of sequential images. Each person was given an image but not permitted to show it to anyone else, only to explain the image. Teams had to figure out the correct sequence, and a leader typically emerged to expedite the process. 
Another activity focused on decision making and reaching group consensus. A rope on a gym floor was twisted into numerous potential knots. The group had to decide whether and when, if the ends of the rope were pulled, there would be a knot or not.  
After scrutinizing the rope, everyone decided and, based on their decision, stepped to opposite sides of the rope. Then, pairing off, everyone tried to persuade someone with a different opinion to change that opinion. This continued until everyone was on the same side of the rope. Consensus? There was not a knot, which proved correct.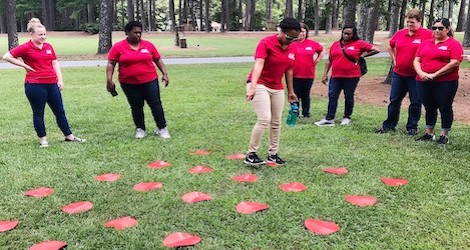 Other activities included, "Ultimate Rock, Paper, Scissors," an all-inclusive icebreaker; "How to Make a Peanut Butter & Jelly Sandwich," an exercise in giving clear, concise instructions; "Mousetrap," an exercise in trust and cooperation; and a couple of team exercises involving stepping stones, giving and following instructions, remembering details, collaboration and body contortions. 
Watch a brief video of the day's activities.