There is growing research indicating home visitation is an effective strategy for helping families improve the health and well-being of young children. 
To further emphasize the importance of the health and well-being of mothers, babies and children, the Fulton County Board of Health (FCBOH) launched its newest endeavor, the Fulton Parents as Teachers™ (FPAT) program, during an open house held at the Oak Hill Child, Adolescent and Family Health Center (Oak Hill) in southwest Atlanta.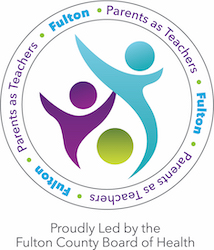 Fulton Parents as Teachers™ engages parents and caregivers and provides them with information that helps build their children's cognitive, language, social and physical development from birth to age three. By utilizing home visitations, FCBOH Parent Educators work closely with families to educate and empower parents with resources and parenting strategies.
As the first point of entry, participation in FPAT will be based on referrals and targeted to children and parents enrolled in the Babies Can't Wait and Children 1st/First Care programs—two statewide maternal and child health programs available through the FCBOH.   For more information about the FPAT program, parents and caregivers can call the FCBOH MCH office at 404-612-4111.
During the open house, the FCBOH held a ribbon-cutting ceremony for its newest hearing booth and announced its expanded Early Hearing Detection and Intervention program (EHDI). FCBOH's audiologist and other staff members will provide hearing screenings to newborns and children up to 5 years of age. Children found to have hearing deficiencies will be connected to appropriate care. In addition, hearing testing will be available for adults and seniors. Adults as well as parents interested in having their children's hearing tested can call the EHDI coordinator at 404-612-1655 to schedule an appointment.