The 2018 World AIDS Day theme is "Saving Lives through Leadership and Partnerships." 
The Georgia Department of Public Health (DPH) and the Kaiser Family Foundation (KFF) are partners working collaboratively to save lives through leadership and partnership in the fight to address the HIV epidemic in Georgia. Over the past decade, they have coordinated and led strategic campaigns and held community events to raise awareness for HIV testing in all 18 public health districts and in all 159 counties, particularly among men who have sex with men, and men and women who are at risk for HIV infection. 
KFF coordinated the 2018 National Testing Day with Walgreens, local health departments and community-based organizations across Georgia. There were over 1,900 free HIV tests during this time. Georgia administered the highest number of tests of any state, representing nearly 25 percent of all tests and the highest average number of tests per store (87.5). Of the top 20 performing Walgreens nationwide, 11 were in Georgia.
Trained counselors provided free tests and information on site at 22 Walgreens stores in Atlanta, Albany, Augusta, Columbus, Duluth, Jesup, Jonesboro, Macon and Savannah. Those who stopped by could also get health information about PrEP, the pill to prevent HIV, as well as learn about advances in HIV treatment. An interactive map of Georgia and all the partners is available to view. 
National Testing Day with Walgreens is part of a nationally-coordinated activation, organized by Walgreens, the nation's largest pharmacy, and Greater Than AIDS, a leading public information response to the domestic HIV/AIDS epidemic. Nationally, over 200 local health departments and community organizations provided almost 8,200 free HIV tests at over 300 Walgreens stores in 180 cities and 31 states, including Georgia, across the country.
The Centers for Disease Control and Prevention (CDC) estimates about 15 percent of people are unaware of their HIV status. Of almost 57,000 persons living with HIV Infection in Georgia, there are about 8,500 (15%) who are not aware of their status. Early diagnosis, treatment and care result in better health for persons with HIV and help prevent the spread of the virus.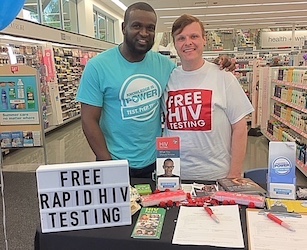 Based on CDC's 2017 HIV Surveillance Report, Georgia ranked second among the U.S. and six dependent areas for diagnoses of HIV infection by area of residence. Georgia ranked fifth for adults and adolescents living with diagnosed HIV infection in late 2016.
Monitoring the HIV/AIDS epidemic and understanding the burden of HIV infection in Georgia are essential for meeting the goals stated in the 2020 National HIV/AIDS Strategy to: (1) reduce HIV infections; (2) increase access to care and optimize health outcomes for persons living with HIV; (3) reduce HIV-related health disparities, and; (4) achieve a more coordinated national response to the HIV epidemic. For more info on HIV surveillance, read CDC's Diagnoses of HIV Infection in the United States and Dependent Areas, 2017.