HPV Vaccination
It's a life-saving campaign and it's about to move through metropolitan Atlanta in a big way, literally. With the single intention of connecting parents and physicians, dozens of city busses and trains will prompt a compelling question – If there were a vaccine against cancer, wouldn't you get it for your kids?
Designed by the Georgia Department of Public Health (DPH) and MARTA, the CDC-funded campaign seeks to raise awareness about the human papillomavirus, or HPV, the leading cause of almost all cervical cancer. The messaging urges parents and guardians to "Talk To Your Doctor About Vaccinating Your Sons and Daughters Against HPV."
hpv_carcard_5_0_0_0.jpg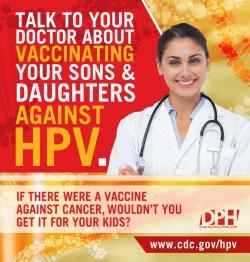 "This campaign brings a singular goal of cancer prevention," said Steve Mitchell, DPH's director of immunizations. "It's important that families know that vaccination against HPV works to prevent cervical cancer."
Cervical cancer was once the leading cause of death for American women. According to the CDC, HPV infection is common in adult life, resulting in 12,000 cervical cancer cases among U.S. women each year. Guarding against HPV requires early vaccination.
Last month, DPH and the Georgia Cancer
 Control Consortium (GC3) released the report: Our Collaborative Course of Action: Georgia's Comprehensive Cancer Control Plan: 2013-2018. The report, prepared with input from dozens of DPH partners, recommends vaccination against HPV begin at ten years of age.
"By the time children reach the age of ten, parents have plenty to think about. HPV isn't likely top-of-mind," said Jean O'Connor, Dr.Ph., J.D., DPH's director of health promotion and disease prevention. "We're hoping this campaign will change that."
O'Connor noted that only 50 percent of adolescent females ages 13-17 in Georgia received one of three doses in the HPV vaccine series. And only 29 percent completed the series in 2012. HPV immunization rates for adolescent males in Georgia are even lower.
DPH worked with the Georgia Chapter of the American Academy of Pediatrics, among others, to develop the campaign, which places messaging on 50 MARTA buses, 120 MARTA trains, and 20 MARTA bus shelters. The DPH Division of Communications projects the campaign will be seen by individuals12.7 million times.
For more information about HPV vaccination and resources, visit cdc.gov/hpv.