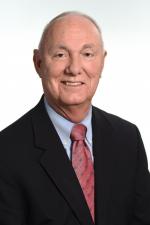 J. Patrick O'Neal
Commissioner, Director of Health Protection

J. Patrick O'Neal, M.D. was appointed Commissioner of the Georgia Department of Public Health by Governor Nathan Deal on July 7, 2017, to fill a vacancy created by the appointment of Brenda Fitzgerald, M.D. as director of the Centers for Disease Control and Prevention.
In addition to his role of commissioner, Dr. O'Neal serves as the Director of Health Protection for the Georgia Department of Public Health (DPH), where he has oversight responsibility for Emergency Medical Services (EMS), Trauma, Emergency Preparedness, Epidemiology, Infectious Disease, Immunizations, and Environmental Health.
Since 2002, Dr. O'Neal served as the Medical Director for the Office of EMS/Trauma in the Georgia Division of Public Health under the Department of Community Health (DCH). For 29 years prior, he practiced emergency medicine at DeKalb Medical Center in Decatur. In his final seven years at Dekalb Medical Center, he served as the Regional Medical Director for EMS throughout the Greater Atlanta area. Dr. O'Neal formerly served as Director of the Outpatient Clinic at the Medical Center of Central Georgia for two years before his work at Dekalb.
He completed an undergraduate program at Davidson College in North Carolina and received his medical education at the Tulane University School of Medicine in New Orleans, Louisiana. Following medical school, he completed a rotating internship at Providence Hospital, Portland, Oregon, prior to entering the United States Air Force for training in flight medicine. Dr. O'Neal served as a flight surgeon in Viet Nam in 1970-71
---
Page last updated 07/28/17