By Julie Jordan
Published June 18, 2018
In May, the Centers for Disease Control and Prevention reported that people getting sick from illnesses related to infected fleas, ticks and mosquitoes, like Lyme disease, Zika and plague, more than tripled in the last year. They attributed the increase to nine newly-discovered germs spread by mosquitoes and ticks.  
Is this nationwide increase happening in Georgia too, and if so, how should you protect yourself?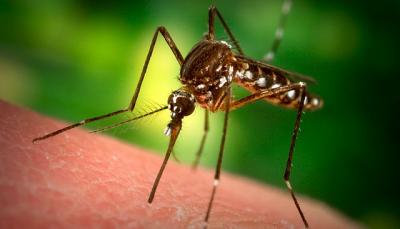 "The report from the CDC is not really representative of what's happening in Georgia," said Rosmarie Kelly, Ph.D., MPH, public health entomologist. "Most of the increase in mosquito-borne diseases was in Puerto Rico, and most of the increase in flea-borne diseases has been out West. Tick-borne diseases are difficult to quantify."
Kelly points out that the major nationwide increase from 2015 to 2016 occurred with the introduction of the Zika virus in the Western hemisphere. In fact, in 2016, there were 113 travel-related cases of Zika reported in Georgia. In 2017, however, this number decreased to 11. In contrast, West Nile Virus was more active in Georgia in 2017 with 48 cases reported.
Georgia residents and visitors should continue protecting against mosquito-borne West Nile Virus, which they are more likely to contract, and the Asian tiger mosquito, known to be a nuisance and potential disease carrier. Normal protection against fleas and ticks is also recommended. Follow these tips to stay disease-free from the pesky carriers:    
MOSQUITOES
Wear EPA-registered repellant with DEET, picaridin, IR3535 or oil of lemon eucalyptus
Tip 'n toss any standing water (where mosquitoes breed)
Clean up your yard and your neighborhood (mosquitoes lay eggs in containers like old tires)
Stay indoors when mosquitoes are bad
TICKS
Use repellent on skin and permethrin on clothing when in tick territory   
Do a tick check after walking through grass 
Remove ticks quickly to lower the risk of a tick-borne disease   
FLEAS
Fleas in Georgia are unlikely to carry disease, but are a nuisance
Treating pets for fleas will reduce the possibility of flea infestations in homes 
When in a location with fleas, wear EPA-registered repellant with DEET