Waterborne Diseases and Outbreaks
Reporting Water Related Illness Complaints:
WellSampling3.JPG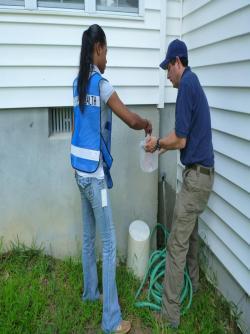 If you have a food or water related illness complaint, you can contact the local  County Environmental Health Office . These complaints are reviewed for investigations and to identify potential clusters of illness. Complaint forms are sent by the County Health Department to the State Environmental Health Office via fax (404-657-6516) or online through the Digital Health Department's Illness Complaint Form.
Reporting Waterborne Diseases (clinically confirmed):
Report any cluster of illness to the Office of Epidemiology Notifiable Disease/Condition Reporting. 
In a Poison Emergency
Call 24-hours a day, 7 days a week

In Metro-Atlanta:
404.616.9000

Outside Metro-Atlanta:
1.800.222.1222

Teletype for the Deaf and Hearing Impaired ONLY:
404.616.9287 (TDD)
Page last updated 09/20/16