Georgia Pregnancy Risk Assessment Monitoring System (PRAMS)
PRAMS_Borderless.png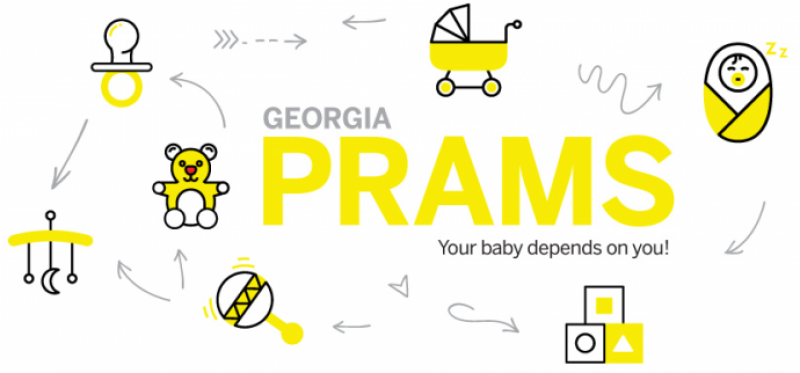 The Georgia Pregnancy Risk Assessment Monitoring System (PRAMS) is a Centers for Disease Control and Prevention (CDC)-funded research project conducted by the Georgia Department of Public Health (DPH) designed to collect information on mothers and babies. Georgia PRAMS began in January 1993 and supplements birth certificate data by providing information on women's attitudes, experiences, and behaviors before, during, and after the delivery of their live born infant.
About Georgia PRAMS
PRAMS is an ongoing, site-specific, population-based surveillance system designed to identify groups of women and infants at high risk for health problems, to monitor changes in health status, and to measure progress towards goals in improving the health of mothers and infants. The goal of Georgia PRAMS is to improve the health of mothers and babies in Georgia by reducing the risk of adverse birth outcomes such as low birth weight, preterm birth, and infant and maternal morbidity and mortality.
Georgia PRAMS aids in the planning and evaluation of programs and policies aimed toward reducing health problems among mothers and babies in Georgia. Additionally, Georgia PRAMS data are used by researchers to investigate emerging issues in the field of maternal and child health.
Georgia PRAMS Methodology
Each month, a stratified random sample of approximately 100-150 mothers is chosen to participate from the Georgia birth certificate registry. Mothers are mailed a Georgia PRAMS questionnaire two to six months post-delivery that consists of about 80 questions, along with an introductory letter, a consent card, and a resource brochure that includes telephone numbers for various Georgia programs. PRAMS is a mixed-mode (mail and telephone) surveillance system that focuses on repeated, but varied contact attempts through the use of personalized mailings and phone calls. The primary data collection mode is mail, with telephone follow-up for all mail nonrespondents. 
The Georgia PRAMS questionnaire consists of two parts. First, there are core questions that are asked by all participating PRAMS states, including questions about the following:
Attitudes and feelings about the most recent pregnancy
Preconception care
Content of prenatal care
Medicaid and WIC participation
Breastfeeding
Cigarette smoking and alcohol use
Health insurance coverage
Physical abuse
Infant health care
Contraceptive use
The remaining questions on the survey are chosen from a pretested list of standard questions developed by CDC. Georgia PRAMS includes expanded questions on prenatal care visits, breastfeeding, vaccination during pregnancy, postpartum depression, home visiting program visits during and after pregnancy, and infant safe sleep. Supplements may be developed to append to the end of the regular PRAMS survey and are used for a short period for data collection on topics of emerging concern. 
PRAMS sites often oversample subpopulations, also known as stratifying, to draw stronger conclusions about various factors of interest. Statistical weighting schemes account for the different sampling rates in different strata, allowing estimates from these groups to be combined to obtain state-level estimates that ultimately reflect the actual proportions of births attributed to these subpopulations.
Georgia PRAMS Stratification by Year
The PRAMS questionnaire is revised periodically. With each revision or phase of the questionnaire, some of the questions change. Although most indicators can be compared across phases, it is often easiest to analyze data within a single phase. Currently, the PRAMS questionnaire is in phase 8. 
Georgia PRAMS Questionnaires
Phase 8 + Supplements 
Georgia PRAMS Questionnaires
Because PRAMS employs a mixed-mode methodology, two types of questionnaires are currently available. The self-administered questionnaire is used with the mailing packets, and an interviewer-administered questionnaire is used with the telephone phase. The interviewer-administered questionnaire contains the same questions that are on the self-administered questionnaire; however, some questions have been formatted differently to facilitate the different mode of administration.
The PRAMS questionnaire is available in English and in Spanish.
Georgia PRAMS Data Requests
Researchers may request data for various Phase 8 cohorts by submitting a proposal to the online DPH Data Request portal. The submission process is outlined below.
Georgia PRAMS Data Requests
Georgia PRAMS Publications
Tobacco Use During Pregnancy Infographic
Summer 2017 Newsletter
Winter 2017 Newsletter
Secondhand Smoke Exposure During Pregnancy Infographic
Georgia PRAMS WIC Breastfeeding Data Summary
Fall 2018 Newsletter
Georgia PRAMS Special Projects
PRAMS for Dads Pilot Project
Fathers play key roles in the health and development of their families. Georgia PRAMS has partnered with researchers at Northwestern University to conduct a PRAMS-like survey for recent fathers. The purpose of PRAMS for Dads is to better understand the role of fathers in the health of families in Georgia. 
Contact Information
Georgia PRAMS Project
Division of Epidemiology, Maternal and Child Health Section
2 Peachtree Street, NW / 14th Floor / Atlanta, GA  30303-3142
PHONE  470-716-2069 
Page last updated 2/28/23