If you're looking for a COVID Vaccination Site in your location, be sure to check back often as the COVID participating vaccine site locations list will be updated frequently. Additional locations statewide will be added when providers are ready to safely administer vaccine, and as vaccine supply allows.
On the Vaccine Locator, use only the search box above to search/sort by county, zip, etc. [for example, to see all locations in your county, type your county in the above search box and the results will show the available locations]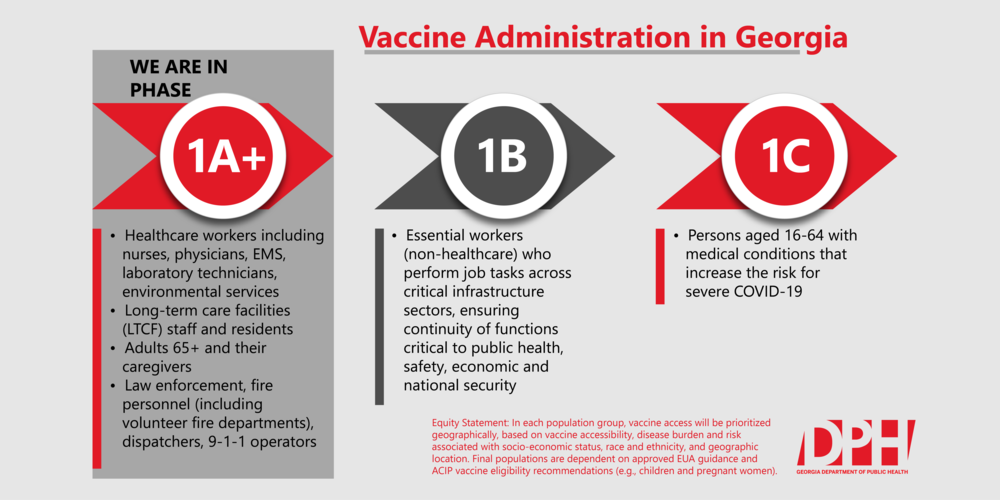 The Georgia Department of Public Health is currently administering COVID-19 vaccine in Phase 1a+ which includes:
Healthcare workers (physicians, nurses, laboratory technicians, EMS personnel, environmental services, etc.)
Residents and staff of long-term care facilities
Adults aged 65+ and their caregivers
Law enforcement, firefighters, first responders
Vaccine supply is very limited. Public health departments are scheduling vaccines by appointment only, as are most other providers. Depending on vaccine supply allocations from the federal government, it may be weeks before additional providers will have vaccine available for quicker and more widespread distribution.
Stop the Spread
Clean
Wash your hands frequently 
Disinfect surfaces
Avoid touching your eyes, nose, and mouth
Social Distance
Maintain at least 6 feet of distance from others
Wear a mask in public
Executive / Administrative Orders
If you're sick or exposed to COVID-19