:
Powder Infant Formula Recall
FDA Warns Consumers Not to Use Certain Powdered Infant Formula Produced in Abbott Nutrition's Facility in Sturgis, Michigan. 
Abbott Formula Recall FAQs .
Georgia WIC
wiclogo mom and baby smiling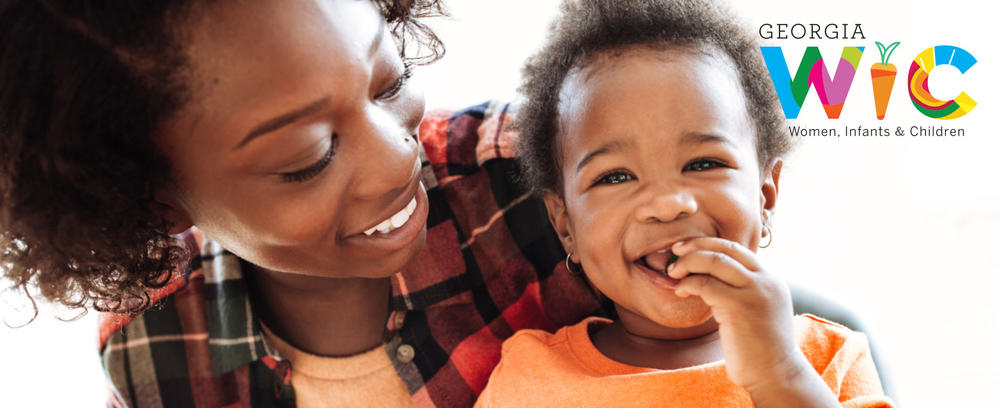 IMPORTANT NOTICE: If you prefer communicating in another language or have a disability, please contact 1-800-228-9173 for assistance.  Interpretation services, translated materials or other assistance is available at no cost.
Español (Spanish) |
Tiếng Việt (Vietnamese) |
Français (French) | ا
لعربية (Aarabic) |
한국어(Korean)
WIC Voucher Alert
Look Up Your Nearest WIC Clinic
Governor Brian Kemp declares March 9, 2022 as Registered Dietitian Nutritionist Day! Click
here to read more!
WIC COVID-19 Update
The Georgia WIC Team continues to streamline processes, explore flexible options and request waivers, of USDA FNS, necessary to expedite and facilitate WIC services in light of the current COVID-19 Pandemic.  Approval for a waiver of physical presence has been granted along with the ability to issue benefits remotely. Changes applied to the WIC Approved Foods List due to COVID -19 allow WIC participants increased flexibility when purchasing WIC foods.    
WIC values the safety of every applicant and participant, therefore social distancing practices are in place to minimize in-person contact.  The Georgia WIC Gateway Customer Portal is open and receiving online applications for WIC Services.  Opening the Customer Portal helps reduce the need for participants and applicants to go into a WIC Clinic to receive services where remote services are available. If you are interested in receiving services, complete a WIC online application at the Georgia Gateway website (Apply on Georgia Gateway).  Eligible applicants will be contacted by a local clinic to set up an appointment (remote where available) to complete the Nutrition Assessment and provide benefits for Georgia WIC Healthy Foods.  As we continue to work through current circumstances, please know that our aim is to ensure that every action minimizes barriers for the citizens of Georgia.  Georgia WIC is here for you and will make every effort to provide platinum customer service during this time of need. Please contact your local WIC Clinic for adjusted COVID-19 services available in your area. See a list of USDA approved waivers for Georgia.
Georgia Gateway Customer Portal
Georgia WIC COVID-19 FAQs  
WIC COVID-19 FAQs
Debunking the Myths - WIC and COVID-19
Help When Help is Needed
WIC Breastfeeding
The Women, Infants, and Children (WIC) Supplemental Nutrition Program is a federally-funded health and nutrition program© for:
Infants and Children age 1 to 5 years (including foster children)
Pregnant Women
Breastfeeding Mothers (up to 1 year)
Postpartum Women (up to 6 months)
How Do I Qualify For WIC Benefits?
Generally, WIC is available to:
low income pregnant, breastfeeding, and postpartum women
low-income parent or guardian who is the sole provider of children under age five who are at nutritional risk and who are at or below 185 percent of the federal poverty level
You can learn more about WIC and take the WIC Eligibility Assessment to see if you qualify* or contact your local WIC office to make an appointment and find out which documents you will need to bring with you. (To find your local WIC agency use the clinic listing)  At your appointment, WIC staff will check to see if you and your family qualify).
What WIC Provides
Special checks to buy healthy foods from WIC-authorized vendors – milk, eggs, bread, cereal, juice, peanut butter, and much more (see Authorized Foods)
Information about nutrition and health to help you and your family eat well and be healthy
Support and information about breastfeeding your baby
Help in finding health care and other community services
USDA Nondiscrimination Statement
WIC Infant Formula Contract Awarded to Mead Johnson and Company, LLC (Mead Johnson) - Effective October 29, 2018 - Learn More
Georgia DPH WIC is currently in implementation phase of the Electronic Benefits Transfer (EBT) mandate and is working through the process of procuring providers.

While the Healthy, Hunger-Free Kids Act of 2010 (P.L. 111-296) requires all WIC State agencies to implement an EBT system by October 1, 2020, Georgia has been granted an exemption by the USDA's Food and Nutrition Service (FNS) to complete implementation by October 2022.

For additional questions please contact the eWIC project team at [email protected]"
Information about Zika!
Women, Infants, and Children (WIC)
Office of the Inspector General
Email Reports of Fraud, Waste & Abuse
Georgia WIC Partner Letter COVID-19 FAQs 4-15-2020
Page last updated 3/23/2022