Chickenpox
**to be put in a colored box running across the top of each VPD page**: Due to the COVID-19 response there has been a decline in the number of children receiving routine childhood vaccinations both nationally and globally. The delay in vaccinations may cause an increase in VPD cases. Please remain vigilant for vaccine-preventable diseases and report them to DPH.
*****
Chickenpox, also known as varicella, is a very contagious rash illness caused by the varicella zoster virus (VZV). Getting vaccinated is the best way to prevent chickenpox. 
Report Chickenpox Cases



Chickenpox Vaccine Information



Contact Information



General information about chickenpox including disease description, complications, treatment, and prevention.
Chickenpox Basics
Information on chickenpox for health professionals, including clinical features and epidemiology, how to report cases, vaccine information, and official recommendations.
Varicella for Healthcare Providers



Information on chickenpox for school health personnel and those in childcare settings.
Varicella Schools and Childcare



In July of 2011, individual cases of chickenpox became reportable in Georgia. Total case counts for chickenpox in Georgia since 2012 are displayed below. Case counts include the total number of confirmed and probable cases reported in Georgia residents.
Varicella2012_2018_1.png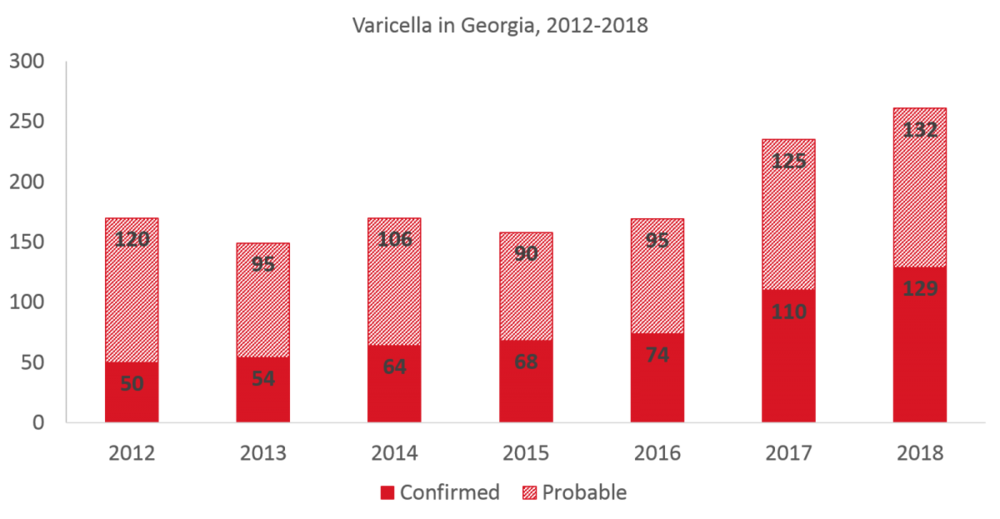 Case Classifications*
Probable: A case that meets the clinical case definition, is not laboratory confirmed, and is not epidemiologically linked to another probable or confirmed case**
Confirmed: A case that is laboratory confirmed or that meets the clinical case definition and is epidemiologically linked to a confirmed or probable case.
*Cases are designated as confirmed or probable by the Georgia Department of Public Health
**Two probable cases that are epidemiologically linked are considered confirmed, even in the absence of laboratory confirmation
Page last updated 5/20/2020