Crash Outcome Data Evaluation Survey (CODES)
codes_logo.png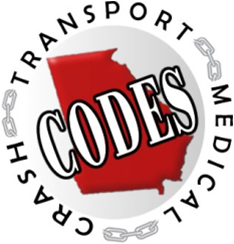 CODES Mission
Motor vehicle crashes are a leading cause of deaths and injuries. Understanding the risk factors and how to address them can help prevent motor vehicle related deaths and injuries and reduce costs. Nationally motor vehicle traffic deaths were the leading cause of injury deaths for children and adults between the ages of 5 and 24 in 2017.  In 2018, Georgia had the 4th greatest number of traffic fatalities (1,504) in the nation and about 25,000 serious injuries. There were 7,608 motor vehicle related hospitalizations and 115,909 emergency room visits for the same year.
It is the mission of the CODES (Crash Outcome Data Evaluation System) project to better understand the populations at greatest or least risk for different types of injuries, the hospitalization charges associated with specific types of crashes and vehicles, the characteristics of driver and occupant behavior that resulted in crashes. 
To achieve this mission CODES brings together multiple agencies and highway safety data owners to identify opportunities for crash prevention by linking and analyzing crash, vehicle and behavioral characteristics to medical and financial data.  This improves the completeness and integration of the state's traffic records data in direct support of NHTSA's performance measure criteria. This provides a path for Public Health, highway safety, and other partners to collaborate on the prevention of these crashes.
What is CODES?
No single data set gives a complete picture of the risk and protective factors for crash-related injuries and fatalities. By linking crash data, vehicle data, and data on risk (i.e. DUI, speeding) and protective (i.e. Driver education, restraint use) factors to their medical and financial outcomes, a more comprehensive view of crash injuries is created and opportunities for prevention can be identified.
CODES uses linked electronic data to track persons involved in motor vehicle crashes from the scene through the health care system to determine crash outcome in terms of mortality, injury, severity, and health care costs.
CODES uses probabilistic techniques to link crash and other injury data.

Combinations of identifiers are used to link records. Once linked, these identifiers are no longer needed or used.
CODES History
The Injury Prevention Program (IPP) of the Georgia Department of Public Health has been the designated CODES agency for the state since Georgia CODES was established in 2000 through funding from the National Highway Traffic Safety Administration (NHTSA) and Governor's Office of Highway Safety.  Georgia CODES has linked a combination of crash reports, EMS reports, and hospital data.
Injury Prevention Program has worked toward institutionalizing CODES in Georgia by developing and maintaining relationships with data owners, users, and injury prevention stakeholders and by supporting public health and safety agencies. This has been accomplished by establishing two groups, the CODES Board and CODES Data Workgroup. The CODES Board includes the owners of the state data and is responsible for all decisions related to confidentiality, management and release of the linked data.  The CODES Data Workgroup is responsible for addressing specific technical issues related to the analysis of linked data.  The Data Workgroup also heads up the Risk Analysis and Evaluation Team for the Strategic Highway Safety Plan (SHSP).  Some of the current members of the CODES project Board include many state agencies, federal partners and universities.  In addition, data users with an interest in highway safety, also serve on the board.
Publications
Motorcycle Fact Sheet
Pickup Truck Fact Sheet
More Information
NHTSA Data Linkage CODES Brochure
NHTSA CODES website
Contact Information:
Denise Yeager | (404) 657-4776 | [email protected]
Page last updated 11/22/2019
Crash Outcome Data Evaluation Survey (CODES) - Related Links