Immunization Section
Mission & Vision                           
Through collaboration with public and private providers, advocacy groups, and other stakeholders, work to increase immunization rates for all Georgians and decrease the incidence of vaccine-preventable diseases.
Vaccine-preventable disease levels are at or near record lows. Even though most infants and toddlers have received all recommended vaccines by age 2, many under-immunized children remain, leaving the potential for outbreaks of disease. Many adolescents and adults are under-immunized as well, missing opportunities to protect themselves against diseases such as Hepatitis B, influenza, and pneumococcal disease.
Back to School Immunizations
New 11th Grade Immunization Requirements
Georgia's immunization requirements for students entering or transferring into the eleventh grade have been revised to align with the current recommendations of the Advisory Committee on Immunization Practices (ACIP), the American Academy of Pediatrics (AAP), and the American Academy of Family Physicians (AAFP).
Effective July 1, 2021, all students who are new entrants or transfers into a Georgia school in the eleventh grade, will require proof of a booster dose of the meningococcal conjugate vaccine, unless their first dose was received on or after their sixteenth birthday. 
For more information regarding immunization, visit the links and resources provided.
Immunization News
Flu Shot Yes You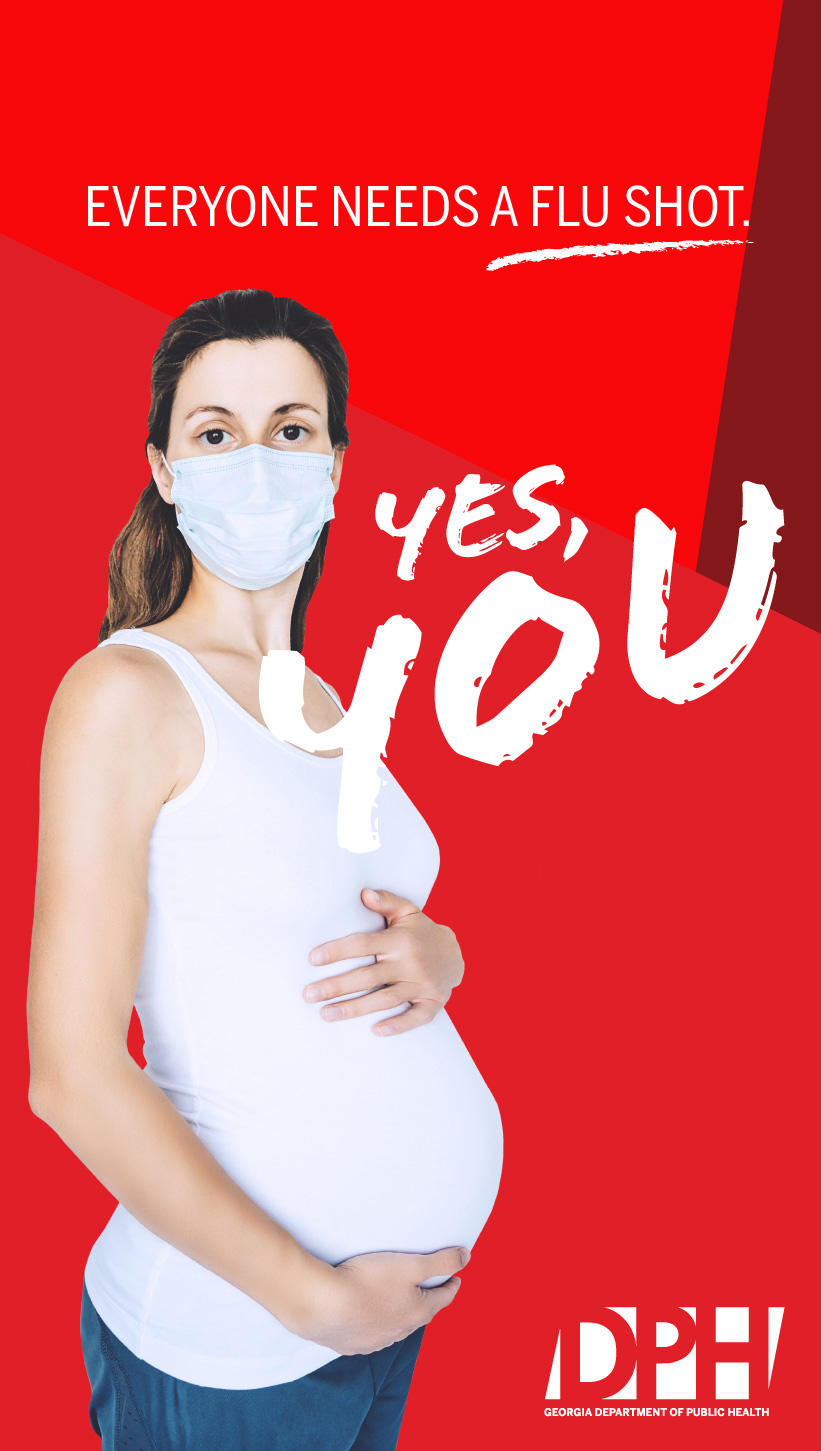 With October marking the beginning of our 2020-2021 influenza season, it is more unique than other past seasons we have encountered. This season commences alongside a worldwide pandemic known as COVID-19, leaving many with questions and much to consider. What is Influenza? COVID-19? How can I protect myself and my family?
Influenza (Flu) and COVID-19 are both respiratory diseases that are highly contagious but are caused by two different viruses. COVID-19 is caused by the SARS-CoV-2 virus and Flu is caused by the influenza virus. They are both transmitted in similar ways via droplets or small virus particles. Because both viruses have similar symptoms that vary from no symptoms (asymptomatic) to severe symptoms, it may be difficult to tell the difference between the two based on symptoms alone.  Some of the most common symptoms include fever, cough, shortness of breath, sore throat, and muscle pain. Although more is learned every day, there currently is no vaccine to prevent COVID-19. However, one of the most important differences between the two viruses, is that there is a vaccine to protect against Flu. Because of this, it is important now, more than ever, that we do our part and protect ourselves from Flu and the spread to others, by ensuring to get vaccinated. DPH wants Georgians to know that Everyone needs a Flu Shot! Yes, You!
For additional information and guidance on Influenza, click here 
To find a location near you on where to receive the flu vaccine, click here
For additional information and guidance on COVID-19, click here 
Immunization Highlights
Georgia Immunization Program
2 Peachtree Street, NW Suite 13.276
Atlanta, GA 30303-3142
Phone: (404) 657-3158 
Fax: (404) 657-1463
email:  DPH-Immunization@dph.ga.gov
Updated 11/13/20