Resources for Children 1st
Children 1st  |  Children 1st Services  |  Children 1st Resources
Developmental Guides
Developmental milestones help families and care providers determine if a child is growing and developing at an appropriate pace for their age.  The following tools, published by the Centers for Disease Control and Prevention: "Learn the Signs. Act Early." can be used as a guide for parents and providers to gauge a child's development.
Developmental Milestones:
CDC Milestone tracker.png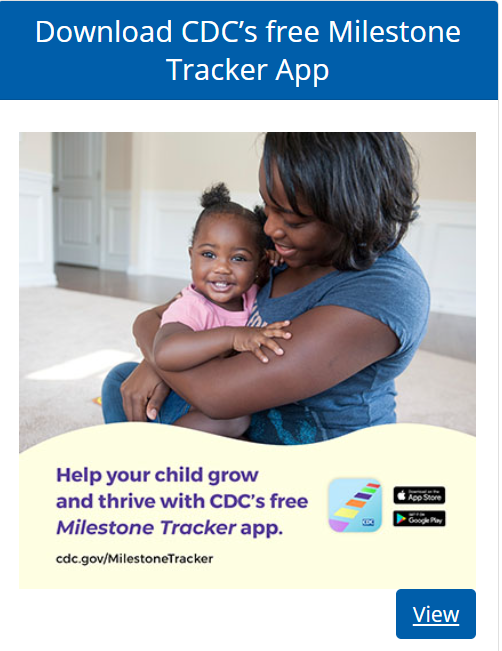 https://www.cdc.gov/ncbddd/actearly/milestones-app.html
Autism
The American Academy of Pediatrics recommends that children be screened for developmental delay and disabilities at 9, 18, and 24 or 30 months; children should be screened specifically for Autism Spectrum Disorder (ASD) at 18 and 24 months.
CLICK HERE to learn more about autism initiatives through the Georgia Department of Public Health.
Community-Based Resources
Georgia Help Me Grow - (888) HLP-GROW (1-888-457-4769)
If you or a family member requires a routine checkup or a referral for more medical care, trust Georgia Help Me Grow to help find the services you need. Referrals include, but are not limited to:
Doctors and Midwives
Dentists
Prenatal Care
Georgia WIC / Food Services
Services for Babies and Children
Birth Control
Breastfeeding Support
STD/HIV Testing
Mental Health Services
Interpreters are available in 170+ languages.
Healthy Mothers, Healthy Babies Coalition of Georgia online resource database
Parent to Parent of Georgia (P2P) - Supporting Georgia families and individuals impacted by disabilities or special health care needs.  
HealthyChildren.org – The American Academy of Pediatrics Parenting Website
DPH Child Health Programs
Page last updated 12/20/2022