Data & Statistics
Sexually Transmitted Diseases (STDs) continue to rise in the United States, and trends throughout the southeastern states resemble those of the nation. One in two sexually active persons will contract an STD by age 25 (Cates et al., 2004). The Centers for Disease Control and Prevention (CDC) estimates that nearly 20 million new STIs occur annually in this country, half of those among young people aged 15–24 (CDC, 2015). The data presented here provide additional details about STDs in Georgia.
2021 State of STDs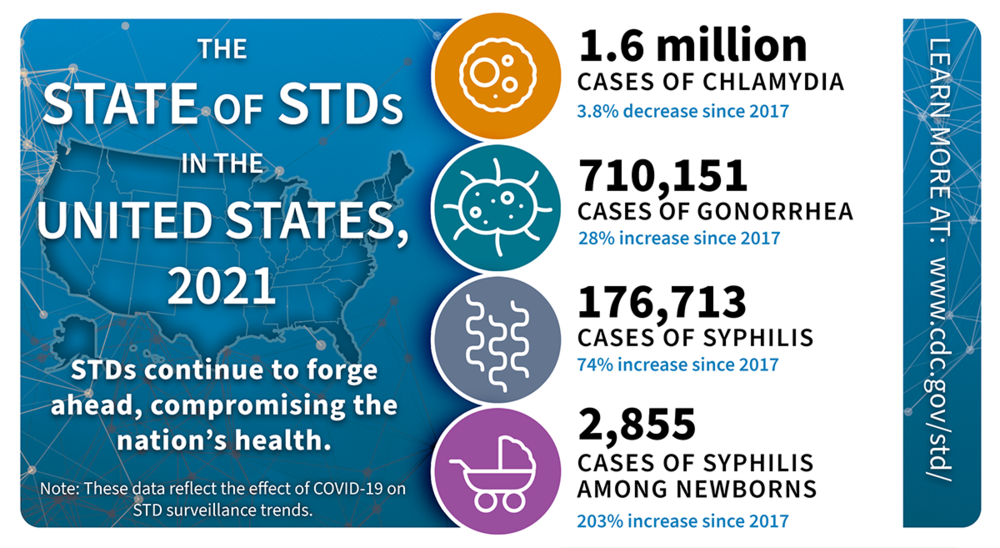 2021 CDC Sexually Transmitted Disease Surveillance Report
CDC published Sexually Transmitted Disease (STD) Surveillance, 2021, its annual report highlighting trends in reportable infections. Reported chlamydia, gonorrhea, and syphilis cases have increased for the seventh consecutive year – reaching a new, all-time high. These infections remain common and costly and challenge the health and wellness of millions of people across the United States. Access the latest STD surveillance report here:
CDC's Sexually Transmitted Disease Surveillance Report
2019 Georgia STD Disease Surveillance Report
Data published by the Georgia Department of Public Health STD Office show that reported annual cases of sexually transmitted disease. This report provides valuable insights into the trends and burden of STDs in our state. The report highlights an overall increase in reported cases of chlamydia, gonorrhea, and syphilis in 2019 compared to the previous year. In addition, the report shows that young people and racial/ethnic minorities continue to bear a disproportionate burden of STDs. 
Georgia STD Disease Surveillance Report
Looking for More Georgia STD Data? Online Analytical Statistical Information System (OASIS)
Obtain tables, maps, and charts of various public health indicators. Vital statistics (births, deaths, fetal deaths, induced terminations), hospital discharge, emergency room visits, STD, motor vehicle crashes, and population data are included. All data can be selected by age, race, sex (Person), state, county, census tract/ county commission district/ Demographic Cluster available (Place), and year (Time). OASIS Data & Statistics
Looking for Additional CDC Data? CDC Data & Statistics
Data & Statistics - Related Files
Page Last Updated 4/11/23