Heart Disease
What is Cardiovascular Disease?
Cardiovascular disease (CVD) is the single leading cause of death in Georgia, accounting for more than 22,000 deaths a year. This is about 1 in 3 deaths overall. Most of these deaths are premature and preventable. Each year, 142,000 years of potential life lost occur in Georgia due to CVD.
CVD includes all diseases of the heart and blood vessels, including ischemic heart disease, stroke, congestive heart failure, hypertension and atherosclerosis. High blood pressure, high LDL cholesterol, and smoking are key risk factors for heart disease. About half of all Americans have at least one of these three risk factors.
Several other medical conditions and lifestyle choices can also put people at a higher risk for heart disease, including diabetes, obesity, poor diet, physical inactivity, and excessive alcohol use.
To prevent CVD, you should maintain a healthy lifestyle to include a balanced diet, physical activity, refrain from tobacco use, and adhere to prescribed medication(s). Additionally, incorporate your team of health care providers to assist in controlling your health and maintaining a healthy lifestyle through regular blood pressure and cholesterol checks.
Combating Heart Disease in Georgia 
Cardiovascular disease has risen to the top of the chart for leading causes of death in Georgia. Preventable and controllable chronic diseases cost Georgia more than $40 billion dollars per year and are the leading preventable causes of death and disability in Georgia. Georgia is ranked 39th in the nation for health outcomes. With 1 out of every 6 residents in Georgia living in poverty, this serves as a predictor for lifelong poor health outcomes. Specifically, 20.5% of children in Georgia are living in poverty. Poor workforce health and the perception of Georgians maintaining unhealthy lifestyles also contribute to the low ranking. Preventing cardiovascular disease will lead to better health outcomes for the State of Georgia and decrease the billions of dollars spent on this preventable cause of hospitalization, death, and disability.
Diabetes - Million Hearts.png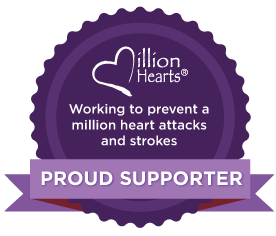 In efforts to fight heart disease, The Georgia Department of Public Health is a proud participant in Million Hearts. Spearheaded by the U.S. Department of Health and Human Services, this national public health initiative aims to prevent 1 million heart attacks and strokes by 2027. 
Through statewide partnerships with local health departments, community organizations, hospitals and other public health entities, DPH is helping Georgians live a heart-healthy life by promoting evidence-based approaches to controlling CVD, commonly referred to as the ABCDE'S of heart health:
A – Aspirin, when appropriate
B – Blood Pressure Control
C – Cholesterol Management
D – Diabetes Management 
S – Smoking Cessation
To Prevent Cardiovascular Disease
General Heart Disease Resources
Providers/Physicians
Tools & Protocols | Million Hearts®
Data & Reports | Million Hearts®
Home | National Heart, Lung, and Blood Institute (NHLBI)
Pharmacists
Blood Pressure Management Guide: Pharmacist
Community
High Blood Pressure and Cholesterol PSA (Audio File)
Learn & Prevent | Million Hearts®
Prevent Heart Disease | cdc.gov
Team Up. Pressure Down.
Team Up. Pressure Down. Hypertension Journal
Page last updated 12/19/22