Crash Outcome Data Evaluation System (CODES)
CODES LOGO.png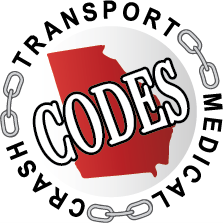 Mission
Motor vehicle crashes are a leading cause of deaths and injuries. Understanding the risk factors and how to address them can help prevent motor vehicle related deaths and injuries and reduce costs. Georgia had the 4th greatest number of traffic fatalities in the nation. The mission of the Crash Outcome Data Evaluation System (CODES) is to better understand the populations at greatest or least risk for different types of injuries, the hospitalization charges associated with specific types of crashes and vehicles, and the characteristics of driver and occupant behavior that resulted in crashes. 
Purpose of CODES
No single data set gives a complete picture of the risk and protective factors for crash-related injuries and fatalities. By linking crash data, vehicle data, and data on risk (i.e. DUI, speeding) and protective (i.e. Driver education, restraint use) factors to their medical and financial outcomes, a more comprehensive view of crash injuries is created and opportunities for prevention can be identified.
Purpose of CODES.png
CODES analyzes and uses probabilistic techniques to link electronic crash and other traffic records data that have information from the accident scene through the health care system. Different data sources provide different information and by linking existing data sources, such as police, hospital, and emergency medical service (EMS) records, crash outcomes can be determined in terms of mortality, injury, severity, and health care costs. The resulting deidentified data is used for evaluation and analysis.
Overall, some benefits of CODES are:
Generates state-specific crash outcome information.

Matches specific characteristics of the person, vehicle, and/or event to injury type, severity, and hospital charges. 

Identifies data quality problems in the linkage process.

Identifies and measures the impact of injury prevention areas.
Partnerships
In Georgia, the Injury Prevention Program (IPP) of the Georgia Department of Public Health has been the designated CODES agency for the state since Georgia CODES was established in 2000. Currently, the CODES program is funded by the traffic records improvement grant through the Georgia Office of Highway Safety (GOHS). Georgia CODES brings together multiple agencies and traffic records data owners to identify opportunities for crash prevention by linking and analyzing crash, vehicle, and behavioral characteristics to medical and financial data. This improves the accuracy and integration of the state's traffic records data in direct support of NHTSA's performance measure criteria, and provides a path for Public Health, highway safety, and other partners to collaborate on the prevention of these crashes.
Georgia CODES is composed of two groups, the CODES Board and CODES Data Workgroup. 
The CODES Board includes the owners of the state traffic records data and is responsible for all decisions related to confidentiality, management, and release of the linked data. Some of the current members of the CODES Project Board include:

Many state agencies.

Federal partners and universities.

Data users with an interest in highway safety.
The CODES Data Workgroup is responsible for addressing specific technical issues related to

the analysis of traffic records and

linked data. 

The CODES Data Subcommittee is the Risk Analysis & Evaluation Team and comprises of traffic data owners and users discussing data issues and is the data support for the Strategic Highway Safety Plan (SHSP). This group has produced the:

Georgia Traffic Safety Facts (GTSF) are for practitioners that include not only crash and fatal data but other traffic data (i.e. hospitalizations).

Georgia Traffic Safety Quick Facts are

for public consumption that are

one-page front and back documents that not only include data but also prevention and resources.

Georgia Traffic Safety Facts Issue Briefs are a one-time analysis that answers specific questions.  
Publications
For updated Georgia Traffic Safety Facts please refer to the Georgia Governor's Office of Highway Safety page.
More Information on CODES
Contact Information:
Denise Yeager
CODES Program Manager | [email protected]
Page last updated 12/22/2022