GA_SANPed_campaign_water1_2023.png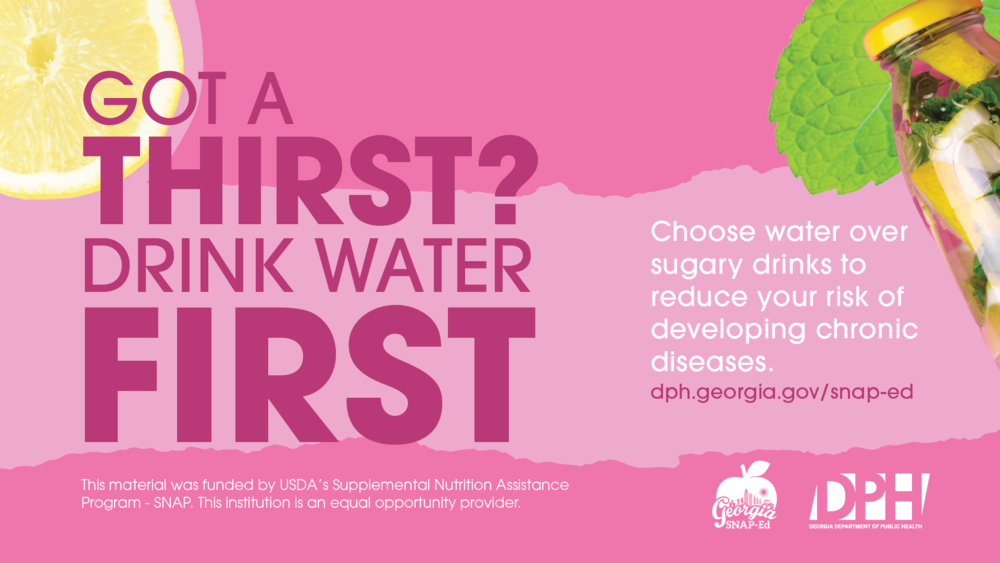 Georgia ranks 21 out of 50 in the United States for adult obesity (being very overweight) and has an obesity rate of 32.5% (higher than the national rate of 30%). Low-income families are at greater risk for developing obesity and other chronic diseases (long-lasting sicknesses). They are also more likely to experience food shortages since the money to buy food is limited or unavailable. In the United States, 78 million Americans are at increased risk of developing serious health conditions due to obesity. Southern states are affected more often by this national public health crisis.
SNAP-Ed is a program of the United States Department of Agriculture Food and Nutrition Service (USDA FNS). It serves as the educational arm of SNAP, the Supplemental Nutrition Assistance Program (SNAP), otherwise known as Food Stamps. SNAP-Ed aims to increase the knowledge and self-help of people receiving SNAP by providing them with education and offering support that makes healthy choices the easier and preferred choice for families living on a limited budget.
SNAP-Ed Offers
Eating Smart · Being Active

The 8-week Eating Smart · Being Active (ESBA) course uses an interactive nutrition education and obesity prevention curriculum. The 90-minute sessions focus on three important areas – nutrition education, physical activity, and preparation of a low-cost, healthy recipe. Participants who complete the series also receive a certificate and cookbook.

Featured weekly topics include:

Welcome to Eating Smart · Being Active/Get Moving!

Plan, Shop, Save

Fruits and Veggies: Half Your Plate

Make Half Your Grains Whole

Go Lean with Protein

Build Strong Bones

Make a Change

Celebrate! Eat Smart and Be Active.

Community Gardening

DPH partners with local community organizations to develop gardens in communities. The gardens can reduce food shortages by increasing access to affordable fresh produce. More importantly, they give community members ownership of a space that empowers, educates, and engages them to make lasting, healthier choices supporting direct nutrition education's goals. 

An established workgroup at each garden provides mentors that help organize regular community garden events.

Voices for Food

Voices for Food (VFF) wants to help people access food in rural communities with high poverty and food shortage. Funded public health districts are responsible for building or supporting local food policy councils. They also help connect local food pantries, food banks, and faith-based food distributors to increase the availability of healthy foods and address food access challenges.

This intervention teaches communities about nutrition, meal preparation, food safety, and resource management so that people have enough healthy and sustainable food options available to them.
Check your local health department to see what programs are available in your area.
The material was funded by USDA's Supplemental Nutrition Assistance Program -- SNAP. This institution is an equal opportunity provider. 

For the USDA's full non-discrimination statement, click here. 
Page last updated 5/19/2023