Georgia Safe to Sleep Campaign Materials
safe_to_sleep_-_logo_revised_4_12_16_0.jpg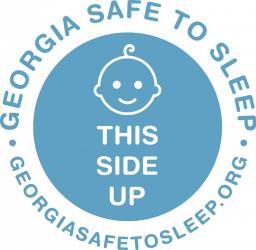 Campaign Overview:
The goal of Georgia's Safe to Sleep campaigns is to educate mothers, fathers, grandparents and caregivers about the importance of putting babies to sleep following the ABCs of Safe Sleep as recommended by the American Academy of Pediatrics.
Georgia has one of the highest infant mortality rates in the country. Infant sleep-related deaths occur suddenly, but parents and caregivers can reduce the risk of these tragic deaths by following the ABCs of safe sleep.
Alone – babies should sleep alone in their own sleep space, close to but separate from their caregiver.
Back – babies should be placed on their back to sleep. Every nap. Every sleep. Every time.
Crib – babies should sleep in a crib or bassinet with a firm, flat surface with no extra items such as crib bumpers, blankets or toys.
Safe to Sleep Campaign Materials
Safe Sleep Infographic - English
Safe Sleep Infographic - En Español
Safe Sleep Flip Chart - English
Safe Sleep Flip Chart - En Español
Safe Sleep - Grandparents
Health Care Providers - Q&A
Safe to Sleep Banner
Transit Ads Buses and Trains

Out of Home/Billboards
safe_to_sleep_-_billboards_out_of_home_5_18_16_-_proofs_page_1_0.png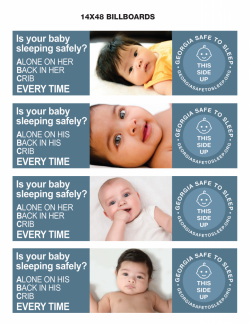 safe_to_sleep_-_logo_revised_4_12_16_0.jpg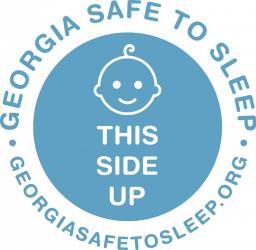 To order educational materials from the National Safe to Sleep Campaign, free of charge, please visit the national Safe to Sleep® campaign's website. 
Individuals in the field of nursing can learn more about SIDS risk reduction and earn up to 1.5 curriculum education credits by participating in the Nurses CE Activity on Risk Reduction for Sudden Infant Death Syndrome (SIDS) and Other Sleep-Related Causes of Infant Death training. 
For information about the Georgia Safe to Sleep campaign collateral, please call the Georgia Department of Public Health, Division of Communications at 404-657-3269 or send an email to [email protected]
Safe to Sleep disclaimer: "The Georgia Safe to Sleep effort is adapted from the national Safe to Sleep® campaign, led by the Eunice Kennedy Shriver National Institute of Child Health and Human Development."
Page last updated 12/16/2022
Georgia Safe to Sleep Campaign Materials - Related Links